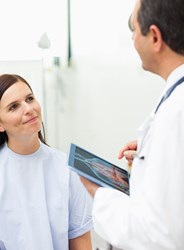 Use the teach-back method to ensure that your patient truly understands their diagnostic test, surgical procedure, discharge instructions or medication directions.
Atlanta, GA (PRWEB) August 29, 2013
With increasing governmental pressure to improve patient satisfaction and reduce preventable readmissions, hospitals are turning to patient education as a reliable tool to get results. Patient education can go a long way towards achieving these goals, but where should a hospital begin?
Nucleus Medical Media, a health literacy company that produces medical animations and illustrations, offers tips for hospitals to provide better patient education for improved outcomes.
1. Use plain language
When explaining a condition or treatment, it's important to use plain language. Your message can get lost in translation when you use medical jargon that your patients may not be familiar with. Try using simple words and metaphors that make it easier for patients to understand.
2. Implement teach-back sessions.
Stress, anxiety, medication, etc. can all affect patients when they're talking with their providers. Though patients may say they understand what you're saying, they may forget or miss steps because of the environment and the circumstances.
Use the teach-back method to ensure that your patient truly understands their diagnostic test, surgical procedure, discharge instructions or medication directions. 1) Provide the information to them in plain language, 2) involve them in the conversation and 3) ask them directly to repeat back what they just heard. You'll be able to tell whether they heard what you said or simply went through the motions.
3. Communicate to all learning styles.
The majority of people are visual learners, but some people retain information better through other learning methods. Ensure patients hear your instruction and see any animations or handouts, then try acting out your instructions in role-play with the patient. You can use "props" where appropriate, such as actual crutches when demonstrating proper use or an actual pressure dressing when detailing wound care. Covering all your "learning style" bases means patients are more likely to remember the important information you're giving them.
4. Use patient education resources.
Resources like patient education animations, printouts, websites, and more can be used at the point of care and also at home. There are plenty of free resources available online through YouTube, governmental websites, and large hospital websites like the Mayo Clinic.
5. Create a health literacy plan involving all the previous steps.
Gwinnett Medical Center outside of Atlanta uses a method called HeLP: Health Literacy Pathway. Using medical discharge animations, they review instructions in easy-to-understand words (in multiple languages), then let the patient ask questions, and work through a teach-back session to ensure the patient or caretaker understands the directions fully. If they have questions at home, patients can refer to a hand out or a link to the animations they viewed at the hospital.
The key to effective patient education is ensuring patients understand their care and learn how to affect their own health for the better.
For more information on how to improve your hospital's patient education, contact Kim Carbonara at kcarbonara(at)nucleusinc(dot)com or (800) 333-0753.
Founded in 1997, Nucleus Medical Media, Inc. is an award-winning creator of medical illustrations, medical animations, and interactive multimedia for the publishing, legal, healthcare, entertainment, pharmaceutical, medical device, and academic markets. Nucleus's clients and partners include WebMD, McGraw-Hill, Dr. Oz, EBSCO Publishing, and thousands of other businesses in new and traditional media. Nucleus employs the world's largest team of graduate-degreed medical illustrators, and has a Medical Review Board with more than 125 physicians and nurses.