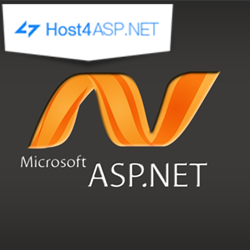 Host4ASP.NET, a rising star in the hosting industry, has been awarded as the best ASP.NET hosting providers by many professional web hosting review sites.
Chicago, Illinois (PRWEB) April 18, 2015
Since it came to the web hosting industry, Host4ASP.NET has been awarded as the best ASP.NET hosting provider by many professional hosting review sites. The sites include BestHostingforASP.NET, ASPNETHosting2Go.COM, BestHostingSearch.NET, HostingReview360.COM, and so on.
To ensure ASP.NET developers can choose the best one hosting package based on their current needs, Host4ASP.NET launched 3 ASP.NET hosting solutions that come with different features and prices. Starting from $2.95/mo, the 3 plans are cheaper than most ASP.NET hosting services.
What's more, Host4ASP.NET accepts both credit cards and PayPal. Therefore, people are able to make a payment securely and easily. Besides, this company guarantees 30-day money back. In this way, customers who are not 100% happy with their services and plan to end their accounts are allowed to ask for a refund within the first 30 days.
This web host integrates each of its hosting packages with sufficient server resources, the latest Microsoft technology and other cutting-edge technology, ensure customers run websites without any limitation. In addition, WebSitePanel coming with a clear interface is included in each hosting plan, helping users manage sites, files, data, and emails easily. Moreover, this control panel comes with Microsoft Web App Gallery, with which people can install the most popular applications quickly and easily.
To ensure the hosted websites run smoothly and stably, Host4ASP.NET utilizes 2 state-of-the-art data centers respectively in Chicago and Hong Kong. Each of the data centers is equipped with 100+ brand-new Dell servers, UPS, BGP technology and SSD. Additionally, technicians are monitoring the data centers and servers 24x7 so that they are capable of dealing with any issue immediately to ensure all hosted websites run without any sudden interruption. Therefore, 99.99% uptime and rapid loading speed are guaranteed.
Furthermore, to offer customers the best hosting experience, a group of Host4ASP.NET technicians are standing by 24x7 to answer questions and provide assistance via live chat and email. Therefore, no matter when customers meet trouble and contact the support team, they will get an instant answer to resolve their issues.
For more details about Host4ASP.NET ASP.NET hosting service, visit https://host4asp.net/windows-web-hosting/.
About Host4ASP.NET
Host4ASP.NET is an asp.net hosting service provider, aiming to offer the best hosting experience for ASP.NET developers and those who are looking for a reliable ASP.NET hosting provider.