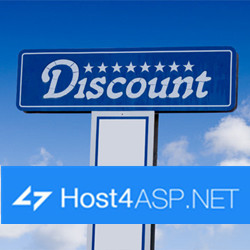 Host4ASP.NET reduces the original price of its hosting service to $4.95/mo. Now, people who renew their hosting accounts at Host4ASP.NET only need to pay $4.95/mo.
Chicago, IL (PRWEB) January 29, 2015
Host4ASP.NET is one of the most popular ASP.NET hosting service providers. Now, this company reduces its original service price to $4.95/mo. Therefore, its customers only need to pay $4.95/mo when they renew their Host4ASP.NET hosting service accounts in the future.
Host4ASP.NET released 3 shared ASP.NET hosting packages to enable ASP.NET developers to choose the best one according to their current budget and needs. The 3 hosting packages are priced at $6.95/mo originally. Now, this company reduces the service original price to $4.95/mo. In addition, people subscribing to these packages via this promotional link are able to cut the price down to $2.95/mo.
To ensure customers enjoy a worry-free and risk-free purchase, this web host offers 30 days money back guarantee. For this reason, customers are allowed to ask for their money back if they are not 100% happy with the service and want to terminate their accounts. Besides, in addition to credit cards, this provider accepts PayPal, ensuring customers can make a payment easily and safely.
What's more, Host4ASP.NET integrates each of its hosting packages with the latest Microsoft technology, rich server resources, easy-to-use control panel, 1-click script installer and much more. Moreover, each Host4ASP.NET hosting plan is full trust allowed.
Furthermore, to guarantee that customers can run websites smoothly and stably, Host4ASP.NET utilizes a first-class data center located in Chicago. The data center is equipped with hundreds of quality Dell servers, UPS power backup, N+1 power, and BGP network with 4 fibre-line internet connection. All these cutting-edge technology and facilities enable this company to deliver 99.99% uptime and fast loading speed.
Additionally, to ensure their customers can enjoy a perfect hosting experience, Host4ASP.NET technical support staffs are standing by 24x7 to answer questions and offer assistance via email and live chat. Also, their technicians have developed many detailed tutorials in their knowledgebase to teach people how to resolve common issues independently.
For more details of Host4ASP.NET ASP.NET hosting service, visit https://host4asp.net/windows-web-hosting/.
About Host4ASP.NET
Host4ASP.NET is a fast-growing web host dedicated to offering reliable and affordable hosting service for ASP.NET developers. Up to now, this company is powering thousands of websites around the world.