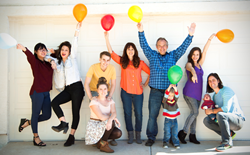 "I've been hosting for 5 years and I will continue for as long as I can with Educatius. The kids are amazing! Educatius is a great organization and always available when you need them," says Darryl, a host dad
Boston, Massachusetts (PRWEB) July 12, 2016
Educatius International is seeking families across the USA who are interested in opening their home and their hearts to an international student. Embrace a new global perspective of the world by hosting a student and SignUptoHost.com with a chance to win a trip abroad! Educatius International offers an opportunity to highly motivated students who dream of attending high school in the United States and living with an American family. Since 2008, Educatius has successfully placed and supported 5,000 international students from over 50 countries in American homes.
"Our students and host families establish wonderful bonds together. They cultivate global understanding, outreach, and lasting relationships," said Gaylen Tracy, Vice President of Operations at Educatius.
There are many benefits to hosting a student. Carolyn, a host mom for over 2 years with Educatius shared, "It is interesting to host a foreign student during this presidential election year! I enjoy learning about everyday life in Norway from my host son. We hope to give him a positive perspective about living in the United States and give my children a better understanding of diverse perspectives. I believe that cultural respect and understanding makes the world a smaller and friendlier place."
This past school year, Benedetta, an Educatius Italian student living in San Francisco, reflected on her experience studying in the United States and how it has changed her life: "I fell in love with this country; it was my dream to come here. I love this experience and my host family. They will remain very close and in my heart forever."
Carol and Steve, Benedetta's host family, expressed their appreciation and joy having her as a member of their home: "We wanted to host an international student to experience other cultures and for us to share our own." Carol shared a surprised benefit: "One of the nicest things was to go shopping for a dress with her at prom season. My husband and I have all boys and this was such a new opportunity with our host daughter. She is truly my daughter in all senses."
Educatius fosters a safe and enriching environment for both the families and students. Host families are paid a monthly stipend, are provided orientation, have access to a 24-hour 1-800 call center, and are assigned a local coordinator to support everyone during the student's stay. Educatius ensures that each family is personally interviewed, pre-screened with a criminal background check, and that a family is qualified and ready to host a student. Additionally, international students go through a rigorous acceptance process into the program and must receive a F1 student Visa to attend an American high school.
"I've been hosting for 5 years and I will continue for as long as I can with Educatius. The kids are amazing! Educatius is a great organization and always available when you need them," says Darryl, a host dad.
Learn more about the host family experience provided by Educatius International and visit us online at http://www.educatius.org/Host-Family. This experience has changed the lives of students and families by bringing their worlds closer together. New adventures and events are shared together including graduations, holidays, and other celebrations such as future weddings and baby announcements.
"Welcome an international student into your home for the full academic year or semester to enrich you and your family with an educational experience that will last forever," recommends Gaylen. Enter the Experience Their World Sweepstakes for a potential to win a trip abroad to the international country of the student with $4,000 towards airfare and hotel accommodations; in addition receive a $700 Visa gift card. Visit the sweepstakes online at SignUptoHost.com to submit an application and meet the requirements to become a host family today!
About Educatius International
Educatius International places students from across the world with local USA host families for an academic semester or year. Foreign students from countries that include Brazil, China, Turkey, Vietnam, Spain, Japan, Thailand, Norway, Italy and Germany, are enrolled in a full-time academic program at a local high schools. In addition, they participate in sports, arts, or other extra-curricular activities. Our students are very enthusiastic about their time in the USA, because certain programs are often not offered in their home countries. They are required to meet admissions requirements for school performance, be motivated to participate and the ability to communicate well in English. For more information, visit Educatius online at http://www.educatius.org