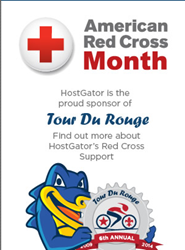 As a token of their appreciation for the Red Cross' efforts, They will be donating $1 for every new customer sign up during the promotion
Worldwide (PRWEB) March 25, 2014
The "American Red Cross promotion" from Hostgator is now live on March 25. To make the world better, Hostgator will donate 1 dollar to the American Red Cross for every single sign-up during this promotion.
Click here to take this offer and help the donation!
They now offer 50% off on all new hosting packages as well as domains. Additionally, they will donate 1 dollar to the American Red Cross for every single sign-up during this promotion!
As a partner of Hostgator, hosting1000 is happy to announce this news from Hostagor. People can save money and help the American Red Cross.
Hosting1000.net is a professional hosting reviews site that provides unbiased reviews on lots of established hosting service providers.
"Our goal is to provide what people want on quality hosting services. We also have the ability to cooperate with hosting companies to promote some of the best hosting services with huge discounts. "said Mr. Rob, the marketing director of Hosting1000.net.
Moreover, Hostgator is a green web hosting company. They purchase wind power for their servers. They have an established fame in the hosting industry.
Hostgator offers a 45-day money back guarantee which can help clients to enjoy their service without risk. People can always make a decision on whether they should continue to use their service within 45 days. What is more, they can start to try the excellent service with 1cent for the first month.
Click here to start your happy Hostgator experience with 1cent!
About hosting1000.net
Hosting1000.net focuses on providing the unbiased hosting reviews on a wide range of hosting companies. They test, review, and update the experience on different hosting services.
About Hostgator.com
Hostgator is one of the largest American hosting company. Established in 2012, Hostgator has become one of the top-rated hosting company in the world. They serve millions of customers from all over world.