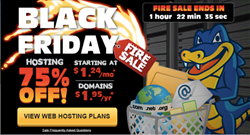 75% Off. Hostgator Cyber Monday Off
(PRWEB) December 01, 2013
Hostgator, the front-runner in the web hosting industry, has just declared the Cyber Monday 2013 discount offers. As it turns out, at Hostgator, Cyber Monday 2013 will be a massive sales day, with flat 75% discount on all hosting packages & 90% off on Domain names. After the huge success of their Hostgator Black Friday sale, they are all set to break sales records with a stellar 75% discount offer yet again. For those who missed out on the 75% off Black Friday discount, here is a second opportunity to lock in the discounts.
Cyber Monday 2013 - 75% Flash Sale Timings (At all other timings during the day it is 60%)
Monday 12AM – 1AM (2nd December 2013 – Central Time/UTC-6)
Monday 10AM – 12AM (2nd December 2013 – Central Time/UTC-6)
Monday 10PM – 11:59PM (2nd December 2013 – Central Time/UTC-6)
The 75% discount applies to all types of hosting packages offered by Hostgator including shared, reseller, VPS and dedicated server hosting, and will be applicable to the first invoice of the customers. Visitors do not need to enter any special coupon code to avail the discounts & the discounted prices are pre-activated through this link.
Hostgator has a huge client base that runs into millions, and therefore has designed a wide range of hosting plans to cater to needs of different individuals and businesses. They provide 3 types of shared hosting packages:
1. Hatchling Plan - This plan is for starters and allows one to host a single website. It is regularly priced at $3.96 a month (for a 3 year term), but is now available at $1.98 a month with Hostgator Cyber Monday discount deal.
2. Baby Plan - This plan allows one to host any number of websites on a single hosting account, and is available at a price of $6.36 per month (for 3 year contract). The customers can now buy this plan for a reduced amount of $3.18/month in the Hostgator Cyber Monday Sale.
3. Business Plan - This plan is for enterprises and includes several great features and comes at a price point of $10.36 a month (for 3 year term). The incomparable reduction now entitles customers to this plan at a cost of just $5.18 per month.
The reduced prices for Hostgator Reseller, VPS and Dedicated hosting are as below:
Hostgator Reseller Hosting: Now Only $12.48/month
Hostgator VPS Hosting: Now Only $9.98/month (Discount applicable for 1st month only)
Hostgator Dedicated Hosting: Now Only $87/month (Discount applicable for 1st month only)
Customers can lock in the discounted prices here:
Click Here for Hostgator 75% Off Price
The company has also released the following exclusive coupon codes that will be valid for any purchase at hostgator.com post the Cyber Monday Sale:
YAHOODEAL001 - 1 Cent Hosting or $9.94 off for the 1st month on monthly billing
YAHOODEAL25 - 25% off on all Shared hosting packages
YAHOODEALRESELLER - 25% Off on Reseller hosting packages
The Hostgator discounts are once in a year offering and only valid for a day at Hostgator.