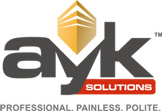 Our previous website was outdated and needed a new fresh coat of paint, along with additional flexibility to scale up quickly and add new content and information for our customers
Schenectady, NY (PRWEB) January 28, 2015
AYKsolutions (http://www.ayksolutions.com), a leading shared hosting, virtual private server (VPS hosting), and dedicated server hosting provider, announced today its new website, designed to help existing as well as prospective customers navigate and find what they need quickly. The new website is also designed to allow for greater scalability and extensibility, as AYKsolutions prepares for new announcements in the upcoming weeks ahead, including new locations and an advanced filtering system.
"Our previous website was outdated and needed a new fresh coat of paint, along with additional flexibility to scale up quickly and add new content and information for our customers," says Artyom Khmelnitsky, President of AYKsolutions. "And we wanted to modernize our website, make it user- and mobile friendly, and make it easier to add new functionality and features as we continue to grow at such a rapid pace."
AYKsolutions says feedback on the new website has been very positive. Visitors and customers alike have reported how much easier it is to find what they need including the over 13 locations across North America, Europe, and Australia and Hong Kong currently offered by AYKsolutions. The new AYKsolutions website also features an enhanced blog, Wisdom, designed as a channel for all visitors and customers to learn more about hosting including best practices, industry news, tips and tricks, and various other articles related to hosting services.
"With the new website, we added Wisdom, a blog dedicated to tips on everything hosting related, all written by our team of hosting experts," says Khmelnitsky. "We want to share our wealth of information and hosting knowledge with our customers and visitors. Wisdom provides a platform for us to do so and makes it easy to add new content based on feedback from our readers."
AYKsolutions will be adding content to Wisdom on a regular basis, including covering topics on upcoming locations, as well as the latest technologies the hosting company is using to help customers achieve the highest performance available on the market. AYKsolutions' vast array of locations, products, and services needed a platform designed to give customers the information they need without having to spend time clicking through to pages that are not relevant to their specific hosting needs.
"We will be adding some great additional features to the new AYKsolutions website in the near future that will further make sorting through our many hosting products and services easier," says Khmelnitsky. "We will also be adding several new locations throughout 2015, along with new technologies that improve the speed, security, and scalability our customers require. This has been a great time to launch a new website that will make it simpler and easier for customers to find what they need."
The new website makes it much easier to find hosting packages and the latest specials. AYKsolutions hosting packages are available at http://ayksolutions.com/content/services.php and AYKsolutions specials are available at http://ayksolutions.com/content/specials.php. Customers can find Wisdom at http://ayksolutions.com/wisdom/.
Customers interested in learning more about AYKsolutions' new website are encouraged to visit http://www.ayksolutions.com.
About AYKsolutions
AYKsolutions is a leading web hosting company that has been providing high-quality hosting services since 2004. AYKsolutions offers a comprehensive range of web hosting solutions to meet the needs of Internet professionals and enterprise customers. The company's product line includes shared hosting, dedicated server hosting, VPS hosting, reseller hosting, cloud hosting, Vault Data Protection, and other leading solutions. With a roster of high-end data centers across the U.S., Europe, Australia, and Hong Kong, with many other locations being added, AYKsolutions is able to provide dedicated clients with innovative and improved service levels and a professional, painless, and polite hosting experience.
For more information about AYKsolutions, visit http://www.ayksolutions.com.