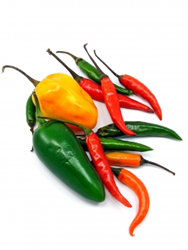 We're already built a large Facebook following over the past 24 months on the web and we're now focusing on our national forum
New York, NY (PRWEB) January 22, 2015
A new forum has been developed and is now active at the Pepper Heads for Life website to help connect adults who have a passion for growing and cooking with hot peppers and spices. This forum at http://pepperheadsforlife.com/forum can be visited using any Internet enabled device and is free of charge to access.
The popularity of cooking programs, cookbooks and culinary periodicals that are released each year has helped to contribute to the national interest in hot pepper cultivation. Adults who are planning indoor or outdoor gardens this year could benefit from the tips and techniques to grow organic peppers by visiting the new forum.
"We're already built a large Facebook following over the past 24 months on the web and we're now focusing on our national forum," said a PepperHeadsforLife.com source.
One new feature of the forum that visitors will notice when exploring the content this year is the recipe section. An internal staff of writers now creates hot pepper sauce recipes and user-submitted content is helping to complement the forum. Adults can also sign up for free gifts and e-books using the one-click button on the PH4L homepage.
"Our goal is to build a web portal that anyone can access to learn about growing and consuming some of the most hottest peppers available in the world," said the source.
The Pepper Heads for Life company is now partnering with different companies to promote hot sauces and rubs that can be easily purchased on the Internet. A new banner on the homepage is helping to link consumers with some of the top sauce companies in 2015 to help introduce new products for sale.
About PepperHeadsforLife.com
The PepperHeadsforLife.com company supplies one of the only portals on the Internet dedicated to hot sauce and organic gardening of spices in the U.S. The company has recently opened its Facebook page to connect nationally with food lovers. The PepperHeadsforLife.com company now provides giveaways, free e-books and a private members area to promote new information and content to website visitors in 2015.