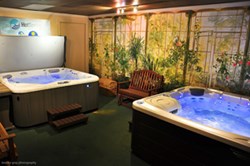 San Mateo, CA (PRWEB) December 16, 2013
On Jan. 2, 2013, President Obama signed the American Taxpayer Relief Act of 2012 (H.R.8) which extended the 2011 tax credit of $300 retroactively to the beginning of 2012 and through the end of 2013 (subject to the lifetime limit of $500 on qualifying products). This federal tax credit encourages people to make energy-conscious purchases that improve the energy efficiency of their home. It is an up to $300 credit they can receive for buying a qualifying biomass-burning stove or fireplace insert between January 1, 2012 and December 31, 2013. Biomass simply means the stove uses wood or pellet fuel.
Creative Energy wants to encourage people to make eco-friendly purchases for their home before the end of the year to qualify for the tax credit. Visit Creative Energy today to find out which Avalon products and Fireplacextrordinare products would be a good fit for the home. Also, they are offering an in-store special until the end of year. For the month of December, customers will pay no sales tax when purchasing a gas fireplace, stove or insert from Creative Energy. They are encouraging a more eco-friendly environment. This offer expires Dec. 31.
For more information, please visit Creative Energy's website at http://www.creativeenergy.com, or call them at 650-574-7600.
About the company:
Creative Energy Corporation, founded in 1975 by Rolf Engelhard and Denis Kasten, is the Bay Area's exclusive Hot Spring® Portable Spa dealer. A family-owned and operated business, Creative Energy provides award-winning hot tubs, spa tubs, wood burning stoves and gas fireplace service to thousands of satisfied customers at their Bay Area locations in San Rafael, San Mateo, and Pleasanton.
Creative Energy's mission is to be the top spa dealer and service provider in the world. They will accomplish this by retailing the highest quality spa in the industry while maintaining the most knowledgeable, dedicated staff. For more information visit their website.