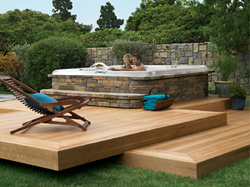 San Mateo, CA (PRWEB) April 16, 2014
Creative Energy is proud to announce that several of their products have been proven to be beneficial to health. A recent study by the American College of Neuropsychopharmacology has concluded that hot tubbing improves autism symptoms. This news will surely surprise many parents whose children suffer from autism.
During the study, immune system regulation was linked to hot water bathing. Researchers have discovered that soaking in a 102-degree hot tub can improve the social behavior of children with autism. The study was published in December 2013 by the American College of Neuropsychopharmacology and can be found at http://www.acnp.org/search.aspx?q=Worms%20and%20Hot%20Baths%3A%20Novel%20Approaches%20to%20Treating%20Autism/.
Dr. Eric Hollander, director of the Autism and Obsessive Compulsive Spectrum Program at Montefiore Medical Center in New York City, led a study that compared the behavior of 15 children after soaking in 98-degree water and the behavior of the same children after soaking in 102-degree water. The behaviors were significantly improved after the hotter sessions.
The improvement is similar to the behavior changes that occur when children have a fever. Researchers have found that the heat triggers the body's release of anti-inflammatory signals. Inflammation that results from an overactive immune system is linked to autism. Often confused to be a disease, autism is a developmental disorder that appears within the first 3 years of life, and affects the brain's normal development of social and communication skills.
For the bath study, 15 children with autism spent alternate days soaking in a 102-degree hot tub versus a 98-degree hot tub. The findings showed that social behaviors improved on the 102-degree hot tub days. The results validate earlier reports that about one-third of people with autism show an improvement in symptoms when they are running a fever.
"Parents have said when their child got fevers, they see a marked improvement in autism," said Rob Ring, Ph.D., chief science officer of Autism Speaks. "This has been reported for years. This study is just one angle you can take experimentally to get at whether this is a true response."
These new studies are resurfacing what ancient cultures knew millennia ago- Immersion in hot water can be good for the body, mind and spirit. Besides providing a relaxing hydrotherapy experience, hot tubs and portable spas provide many health benefits, especially for people suffering from arthritis, diabetes, sleep deprivation and now quite possibly autism.
A long, soothing soak in a Hot Spring® spa could be just what the doctor ordered. Whether it's to unwind from the complexities of everyday life or to soothe sore muscles and joints caused by sports or minor strains, a Hot Spring spa can help spa users feel better naturally. To learn more about Creative Energy's selection of Hot Spring® Spas, visit their website at http://www.creativeenergy.com .
About the company:
Creative Energy Corporation, founded in 1975 by Rolf Engelhard and Denis Kasten, is the Bay Area's exclusive Hot Spring® Portable Spa dealer. A family-owned and operated business, Creative Energy provides award-winning hot tubs, spa tubs, wood-burning stoves and gas fireplace service to thousands of satisfied customers at their Bay Area locations in San Rafael, San Mateo and Pleasanton.
Creative Energy's mission is to be the top spa dealer and service provider in the world. They are accomplishing this by retailing the highest quality spas in the industry while maintaining the most knowledgeable, dedicated staff. For more information, visit their website.