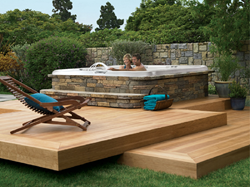 San Mateo, CA (PRWEB) June 27, 2014
Creative Energy is proud to announce that they are now offering a completely redesigned line of hot tubs and spas. Hot Spring Spas recently partnered with BMW Group DesignworksUSA to redesign their line of hot tubs and spas, which were introduced in the 2014 Highlife Collection.
Virtually every visual element of the spas has been redesigned. Each spa has been designed for high visual impact, with several design themes consistent throughout all the spas. All the new elements work together to create a beautiful new style.
Hot tub and spa consumers have become more attracted to design as a feature. Hot Spring recognized the need to elevate their spa design and saw this as an opportunity to set a new direction for hot tub design and to reinforce their position as the industry leader.
The new Highlife Collection offers more than just style, though. It also features more comfortable seating, more useable space around the bartop and more ergonomic levers and jet faces.
The redesigned collection has been introduced according to a staggered schedule over the first six months of the year, and the new models are now available at Creative Energy. Always looking for the latest innovations in the industry, Creative Energy wants to provide their customers with the best hot tubs and spas available. For more information about the new collection, visit http://www.creativeenergy.com/.
About the company:
Creative Energy Corporation, founded in 1975 by Rolf Engelhard and Denis Kasten, is the Bay Area's exclusive Hot Spring® Portable Spa dealer. A family-owned and operated business, Creative Energy provides award-winning hot tubs, spa tubs, wood-burning stoves and gas fireplace service to thousands of satisfied customers at their Bay Area locations in San Rafael, San Mateo and Pleasanton.
Creative Energy's mission is to be the top spa dealer and service provider in the world. They are accomplishing this by retailing the highest quality spas in the industry while maintaining the most knowledgeable, dedicated staff. For more information, visit their website.