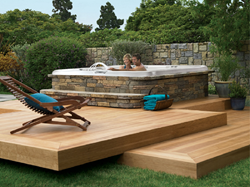 San Mateo, CA (PRWEB) July 21, 2014
Creative Energy is pleased to announce that the 2014 Highlife Collection Prodigy hot tub is now available to order. With the release of the new Prodigy, Creative Energy has completed the introduction of the 2014 Highlife Collection and NXT spas – two weeks ahead of schedule.
The 2014 Highlife Collection Prodigy has been completely redesigned, making it roomier and more comfortable than ever. The new Prodigy is slightly more square than its predecessor at 6'6" x 7'0" x 33" (vs. 6'2" x 7'3" x 33" for the 2013 model). This modest change in dimension, in conjunction with a tighter corner radius and new shell geometry, resulted in a more spacious spa interior. This five-person spa also sits deeper than the previous Prodigy. It offers multi-level seating, with three deeper, sculpted corner seats and shallower side seats to accommodate customers of different heights.
Over the years, customers have asked Creative Energy to add their signature Moto-Massage® jet to this model. The company is pleased to announce that the 2014 Prodigy includes the Moto-Massage DX jet, which means that all 2014 Highlife Collection spas feature the innovative flagship jet. In addition, Creative Energy has added a pillow above the new Moto-Massage DX jet, making this corner seat truly amazing. To further enhance the consumer experience, the total jet count has increased by three, for a total of 22 jets.
This spa remains 110v/220v convertible and comes with the same 1.65HP one-speed jet pump as it did in 2013.
Like all Highlife Collection models, the 2014 Prodigy has received dramatic design enhancements thanks to the Hot Spring design team and the experts at the BMW Group DesignworksUSA. From the attractive new Everwood® HD siding and beautifully sculpted shell, to design-enhancing details like the new weir, jets, and Moto-Massage DX face plate, the 2014 Prodigy is feature-rich.
The all-new design and value-added enhancements make the 2014 Prodigy the perfect choice for spa shoppers who desire a fully-featured Highlife Collection spa in a smaller footprint.
The 2014 Prodigy model is available to order now through WatkinsDirect™ or by contacting a Dealer Support Representative. Creative Energy will continue taking orders for the 2013 Prodigy model for approximately two weeks before they officially phase out production of this model. All orders received during this phase out period are subject to raw material availability.
The 2014 Highlife Collection Pricing Announcement, released on February 24, contains comprehensive details regarding the 2014 price changes. A separate, supplemental Pricing Announcement regarding the Prodigy spa, along with the updated 2014 Highlife Collection Wholesale Price List, is also available now to download from the Owners Corner of the Extranet.
If customers have questions about any aspect of the 2014 Highlife Collection, please contact the Regional Sales Manager, US Sales Manager, Steve Hammock – President (ext. 4238), Mike Dunn – Executive Vice President (ext. 4145), Ryan Sessler – Vice President of Sales, North America (ext. 4168), Brian Ricci – Vice President of Marketing, North America (ext. 4146), Kacy Rivers – Brand Manager (ext. 4470) or Karen Lynam – Manager of Product Management (ext. 4363).
About the company:
Creative Energy Corporation, founded in 1975 by Rolf Engelhard and Denis Kasten, is the Bay Area's exclusive Hot Spring® Portable Spa dealer. A family-owned and operated business, Creative Energy provides award-winning hot tubs, spa tubs, wood-burning stoves and gas fireplace service to thousands of satisfied customers at their Bay Area locations in San Rafael, San Mateo and Pleasanton.
Creative Energy's mission is to be the top spa dealer and service provider in the world. They are accomplishing this by retailing the highest quality spas in the industry while maintaining the most knowledgeable, dedicated staff. For more information, visit their website.