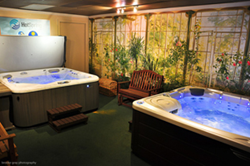 San Mateo, CA (PRWEB) February 24, 2014
This year, California's dry season has left many of the state's residents worrying about the lack of water and doing everything they can to conserve. Creative Energy's Hot Spring Spa helps owners to save water by allowing them to reuse hot water and minimize shower usage.
It's no secret that during this harsh California drought, many residents are looking for ways to cut their water consumption. Lawmakers are encouraging minimal water usage, including limiting washing machine and dishwasher usage, lawn watering and shower times. Many may believe that filling their Hot Spring Spa would be a waste of water, but in fact, it is just the opposite.
In past droughts, Creative Energy has seen their customers use their Hot Spring Spas in ways that ultimately end up saving water. One of these ways is using Hot Spring Spas to supplement regular showers. Instead of spending time everyday under a running faucet, Hot Spring Spa owners could spend some days soaking in their spas instead. Because Hot Spring Spas hold standing hot water, instead of running water, users are more likely to use less water in the spa than in the shower. By substituting some showers with a soak in the Hot Spring Spa, shower water consumption can be significantly cut.
Hot Spring Spa owners don't have to feel guilty when they are draining their spas either. The water being drained doesn't have to be wasted; it can be reused to water lawns and plants. This gives homeowners an important source of reusable water.
Compared to other hot tubs, Hot Spring Spas save about 900 gallons of water per month, giving homeowners another opportunity for water conservation. Creative Energy has sold Hot Spring Spas for more than 33 years, so they know that this is the best and most efficient hot tub product around. To learn more about Hot Spring Spas, Creative Energy and saving water during this drought, visit http://www.creativeenergy.com.
About the company:
Creative Energy Corporation, founded in 1975 by Rolf Engelhard and Denis Kasten, is the Bay Area's exclusive Hot Spring® Portable Spa dealer. A family-owned and operated business, Creative Energy provides award-winning hot tubs, spa tubs, wood-burning stoves and gas fireplace service to thousands of satisfied customers at their Bay Area locations in San Rafael, San Mateo and Pleasanton.
Creative Energy's mission is to be the top spa dealer and service provider in the world. They are accomplishing this by retailing the highest quality spas in the industry while maintaining the most knowledgeable, dedicated staff. For more information, visit their website.