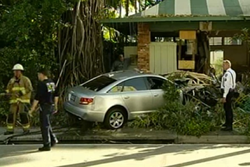 Winter Park, FL (PRWEB) June 27, 2015
Dan Cotter of The Maher Law Firm obtained a $24 million dollar verdict on June 23, 2015, in a wrongful death suit against a Fort Lauderdale hotel for the death of a hotel guest in 2012. According to court documents, Alanna Demella, seven months pregnant at the time, was killed when a car traveled off of the road and into the hotel's poolside cabana she was occupying at the Riverside Hotel in Fort Lauderdale. Cotter tried the case along with co-counsel Brad Edwards and Gary M. Farmer, Jr. of Farmer, Jaffe, Weissing, Edwards, Fistos & Lehrman, P.L. in Fort Lauderdale, FL.
A Broward Circuit Court jury handed down an eight figure verdict in favor of Alanna Demella's husband, Michael Demella.
According to court documents, Michael and Alanna Demella were visiting from Massachusetts in March 2012. The couple checked into the Riverside Hotel and went to the pool. They had stepped into the cabana restroom moments before the incident. The driver of the vehicle, Rosa Rivera Kim, was later arrested and in January 2015 was convicted and sentenced to 15 years in prison on two counts of DUI Manslaughter, after it was determined that her blood alcohol level was .24 - 3 times the legal limit.
Michael Demella filed suit against the Riverside Hotel, claiming that the hotel was negligent in failing to maintain its property in a reasonably safe condition by protecting its guest from the known danger that speeding and distracted drivers posed to hotel guests.
At trial, Cotter and his team sought to prove that the hotel knew of the growing danger and could have done more to protect their guests against that danger. According to court documents, Demella introduced evidence at trial showing that the particular cabana was located in a vulnerable spot just off the sharp curve on the property, with no protection from passing cars. It was also demonstrated that for years before this tragic accident, hotel management was aware that cars traveled along this stretch of road at speeds far in excess of what this section of the road was designed to handle, and that these drivers posed a serious danger to guests, from which guests deserved protection. Hotel documents revealed the road was referred to as a "racetrack." Evidence showed the hotel could have easily remedied this dangerous condition by erecting a barrier, or by simply relocating the cabana to a location near the pool, out of harm's way.
According to Demella and his attorneys, this verdict is important for two reasons. First, they feel it is verification that our jury system, in which the country has placed great trust, works. Second, the jury recognized the need for safety in the community as well as the extraordinary value that Alanna Demella brought to her husband. The entire trial team expressed pride in being able to have played a role in helping Michael achieve justice as well as improving the safety of the community.
The Broward County jury returned a verdict of $24 million and assigned fifteen percent (15%) responsibility against the Riverside Hotel and 85% to the Rosa Rivera Kim following a six day trial. The net verdict against the hotel is approximately $3,600,000.
The Maher Law Firm handles cases nationwide including mass tort and class action litigation, personal injury and wrongful death claims, product liability and patent infringement litigation, premises liability, and car, truck, motorcycle and aviation accidents. They are headquartered in Winter Park, Florida, and Philadelphia, Pennsylvania. They can be reached at 866-638-2163 or at their website, http://www.maherlawfirm.com.
Case Information: In the Circuit Court of the Seventeenth Judicial Circuit, in and for Broward, County, Florida
Case 12028526