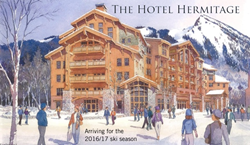 You Belong Here
Wilmington, VT (PRWEB) March 11, 2015
The Hermitage Club announced today that on March 29th, a reservation party will be held at the club, for the soon to be built Hotel Hermitage – a luxurious 95 unit hotel/condominium that that is expected to be available to members and their guest by December 2016. Dale Ribaudo, senior vice president of the club said, "The Hotel Hermitage was long in the initial development plan – we needed outstanding accommodations for our members and their guests. Members can use the hotel condo as their primary residence while enjoying the year-round delights of the Hermitage Club. Or they can place their unit in our rental portfolio for significant revenue potential. The Hotel Hermitage is truly a once in a life time opportunity."
According to Jim Barnes, president of the Hermitage Club, "The views from the new condo hotel will be second to none. The Hotel Hermitage is the next step in the evolution of The Hermitage Club as the premier ski destination in the Northeast. With heated and covered parking, direct access to the slopes, locker facilities, ski valet and so much more, the new facility will be luxury defined." The architect for Hotel Hermitage is San Francisco-based Bull Stockwell Allen, considered one of the most prominent luxury residence architect firms in the U.S.
The Hotel Hermitage will be located adjacent to the new 80,000 square foot post and beam and glass Clubhouse, which is the largest and most comprehensive member facility in North America. It includes multiple dining options, full fitness and spa opportunities, a family center with bowling and a 42-seat movie theater, a nursery, three locker rooms and a retail store. The Clubhouse is connected to the mountain via a 38-foot wide ski bridge, the largest in America. The reservation party on March 29 will be closed to the public until 2:00pm to allow members to make their selections. To obtain more information and to obtain a reservation number, call (802) 464-7734.
About The Hermitage Club
The Hermitage Club at Haystack Mountain is a 1,400-acre enclave in the Deerfield Valley of Southern Vermont. The Club, located in the towns of West Dover and Wilmington, VT, provides members with four seasons of private mountain activities, luxury accommodations and a worry free, safe environment for families of all generations. The exclusive private club community celebrates the outdoors and family fun, with activities ranging from alpine skiing and boarding to cross country skiing and snowshoeing. The Club has also recently added a variety of summer water and mountain adventure activities including hiking, swimming and kayaking in addition to golfing at its 18-hole championship golf course.. The new clubhouse, combined with the residential construction taking place at The Club, qualifies as the largest real estate construction project in southern Vermont and has attracted the interest of those interested in Vermont ski resort real estate. The Hermitage Club is the fastest growing company in Vermont and was recently named to Inc. Magazine's Inc. 5000 list of fastest growing private companies in the United States.