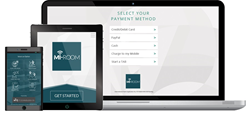 Mi-Room can seamlessly integrate with many hotels' existing EPOS and property management systems so it's hassle-free for guests and the hotel, encouraging uptake and allowing for an increase in revenues from day one
(PRWEB UK) 11 April 2017
Unlike a mobile ordering app, which relies on guests taking the time to download it, Mi-Room is a cloud-based application that can be accessed in seconds and in under three key strokes via any internet-enabled mobile device, allowing guests to use their own smartphones, tablets and laptops to order guest services from the comfort of their hotel room or sunbed. Features include a user-friendly interface, choice of language, allergy and dietary requirements and multiple payment options, including charge to room.
Along with enhancing guests' experience, Mi-Room's brand customisable software provides an ideal platform to increase upsell opportunities, easily managed through a back-end system that facilitates real-time updates to menus and pricing, as well as take advantage of data-driven marketing tools. It can be in place in less than two weeks from point of contract and thanks to a little or no Capex SaaS model, venues can experience an instant ROI.
Graham Cornhill, Managing Director and founder of Wi-Q Technologies, explained how the concept of Mi-Room was in response to demand: "Following the launch of Wi-Q, our cloud-based ordering system that has been implemented in restaurants worldwide, a London hotel group expressed a need for our technology to enhance the guestroom services of their hotels. Through targeted research, it quickly became apparent that they weren't alone, so we started developing software specifically for that purpose."
The Mi-Room guest services solution has been fine-tuned by working closely with the hotel sector, industry experts and payment and EPOS providers, including Oracle Hospitality, which now enables Mi-Room integration with tens of thousands of hotels worldwide.
Graham continued: "We have formed extensive global partnerships that ensure Mi-Room can seamlessly integrate with many hotels' existing EPOS and property management systems so it's hassle-free for guests and the hotel, encouraging uptake and allowing for an increase in revenues from day one."
Editor's notes:

Mi-Room, powered by Wi-Q Technologies, is a cloud-based mobile ordering solution developed to make guest room services more accessible and profitable. It is accessible via any internet-enabled mobile device, without having to download an app.
In 2016, Wi-Q achieved Gold Partner Status as part of the Oracle Partner Network (OPN).
In March 2017, Wi-Q achieved integration with Oracle Hospitality Simphony systems.
Wi-Q Technologies' product portfolio also includes Wi-Q, a cloud-based mobile ordering solution developed for food and beverage venues, including restaurants, cafés, theatres and stadia.