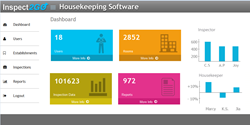 report key performance indicators for housekeepers and inspectors
Orange County, CA (PRWEB) August 31, 2015
Housekeeping Directors and Maintenance Managers need to quickly visualize staff performance. Inspect2go now offers data graphing and charting capabilities for its hotel room inspection software. Inspections are conducted using an iPad. Quality data is stored and key performance indicators are graphed for easy viewing. The Inspect2go system is optimized for large hotels with full time hotel room inspectors.
Housekeeping Software Capabilities:

Mobile App - Inspections are "offline capable" using a native mobile iPad app. Inspections are not interrupted by wifi connectivity issues.
Customize to specific hotel checklists and processes
Notes and signatures
Weighted scoring
Photo taking and picture annotation
Cloud-based management software. Compatible with PC's and mobile devices.
Data storage and backups
Work order generation
Maintenance tracking
Graphical Reporting - Graphs and Charts
Security - SSL and Data Encryption
Reporting on Key Performance Indicators (KPIs) such as:

Inspections per housekeeper per month
Inspections per inspector per month
Housekeeper scores
Most common deficiencies and violations by frequency
Custom, ad-hoc reports
About Inspect2go
Inspect2Go (http://www.inspect2go.com/) offers state-of-the-art inspection management software that combines mobile, cloud and database technology. Inspect offline and manage online with software designed by inspectors, for inspectors. Inspections are conducted on a native mobile app that's easy to use and functions everywhere, offline, without the need for data connectivity. iPad, Android tablet and Windows (Surface Pro) mobile applications are available. The Microsoft SQL database software enables scheduling, ad-hoc reporting, financial, permitting and management function.