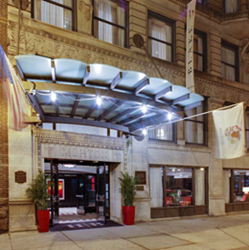 Hotel Blake, a downtown Chicago Hotel, announces special offers to welcome spring visitors. Hotel Blake is ideally located near top Shopping, Dining, and Attractions.
Chicago, IL (PRWEB) February 28, 2015
Hotel Blake, a downtown Chicago Hotel, announces special offers to welcome spring visitors. Hotel Blake is ideally located near top shopping, dining, and attractions. Some of the Hotel's popular offers are described below, or those planning a visit can view the Hotel's website for a full list of current special offers. View offer details >
Spring in Chicago
Spring is a beautiful time of year to visit Chicago, and this special offer from Hotel Blake allows visitors to enjoy a fabulous rate, and all of the amenities at this downtown Chicago Hotel.
Chicago Shopping Spectacular
Some visitors come to the City just to enjoy the fabulous shopping. Hotel Blake's location is within walking distance of some of the City's best shopping, and this special offer is tailored to those who love to shop. The Chicago Shopping Spectacular offer includes a $50 shopping gift card, free parking, and complimentary transportation to the first shopping destination or back to the Hotel from the last.
It's Five O'Clock Somewhere
It's always 5 o'clock somewhere, and this package allows guests at Hotel Blake to celebrate that fact. The package includes a great room rate, and 2 free drinks from Café Meli, the Hotel's onsite dining option.
Experience Chicago Package
Chicago is a city with a lot to offer, and the Experience Chicago Package allows visitors to explore the City to their heart's content. The package includes a $50 gift card, 2 3-day passes to use the City's public transportation, and a bottle of champagne delivered to the guest room.
About Hotel Blake – A Chicago Hotel:
Ideally located in the heart of historic Printer's Row sits Hotel Blake – a boutique Chicago Hotel. The 19thcentury former Morton and Duplicator building is now home to 162 beautiful Guest Rooms and Suites offered at Hotel Blake.
Whether visiting Chicago for business or pleasure, Hotel Blake offers upscale Chicago Accommodations along with impeccable service. Some believe, 'location is everything'. This makes Hotel Blake an ideal choice! Our Chicago Hotel is located downtown in the heart of Chicago's historic Printer's Row. Take a short walk to State Street, enjoy Grant Park, explore the many fine Chicago Museums, or indulge in a fine dining experience at one of the many nearby Chicago Restaurants
When visitors choose Hotel Blake, they will enjoy a long list of Hotel Amenities that will set a stay at our Chicago Hotel apart. Enjoy our 24-hour Fitness Center, or get a bit of work done in the quiet and convenience of our 24-hour Business Center. Enjoy a meal in our onsite Chicago Restaurant, Meli Café, or opt for the convenience of Room Service.
Relax in a comfortable, beautifully-decorated room. Get a good night's sleep on impossibly soft Egyptian linens. Wash the stress away by standing under a rainfall showerhead. Guests can enjoy a meal in our Meli Café, or order Room Service and take breakfast, lunch, or dinner in their room.
View the Hotel Blake Website.
Visiting Chicago? Consider Hotel Blake. Check Rates, Make Reservations, or call: 312.986.1234.
View Hotel Blake's Photo Gallery.