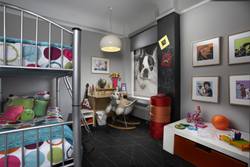 Hotel Diva announces special rates for summer visitors and exclusive offers with travel dates through December of 2015.
San Francisco, CA (PRWEB) June 23, 2015
Hotel Diva announces special rates for summer visitors and exclusive offers with travel dates through December of 2015. Located on Geary Street near the shops and restaurants of Union Square, Hotel Diva offers chic, modern San Francisco Accommodations that are unlike any other San Francisco Hotel. Hotel Diva has impressive special offers to welcome guests. View offer details >
Hotel Diva boasts ultra-modern décor with stainless steel headboards and other artful touches. The chic, sexy, modern design is complemented by extras such as complimentary nightly Sake Hour. The amenities at this San Francisco Hotel are as impressive as the décor.
The dog-friendly Hotel Diva boasts a complimentary business center, 24-hour fitness center, onsite dining at Colibri Mexican Bistro, complimentary high-speed Wi-Fi, valet parking, laundry service, and a Starbucks located adjacent to the lobby.
Hotel Diva has 7 types of guest rooms and suites. Visitors who take advantage of the hotel's special offers can keep it simple in a Deluxe Room or indulge in the hotel's Suite Escape which is decorated in shades of white, black, and taupe with pops of orange.
Children will feel like superstars with a stay in the Little Diva Suite which pays homage to famous child actors and characters. The Little Diva Suite gives kids (and parents) a space of their own and features a connecting door to the parent's guest room.
Travelers planning a stay in San Francisco can Check Rates or Make Reservations online or call Hotel Diva at 844.592.4559.
About Hotel Diva:
When visitors want to stay at a San Francisco Hotel that is not like the others then Hotel Diva is the only choice! This Hotel in San Francisco is sexy, modern, and absolutely not for everyone. The art-inspired, modern guest rooms of this boutique hotel appeal to those who appreciate that stunning visuals can add to the overall experience of staying in a chic hotel.
Hotel Diva has an ideal location, and sits right across the street from 2 of the City's top performing arts venues – The American Conservatory Theatre and Curran Theatre. Also nearby are some of the very best San Francisco Restaurants, Shopping venues, Attractions, and Activities.
The impressive amenities at Hotel Diva, along with the ideal location and gorgeous guest rooms and guest suites make this hotel a popular choice for both business and leisure guests. Guests enjoy a complimentary Sake Hour each night, 24-hour fitness center, 24-hour business center, valet parking, and full-service Concierge.
View Hotel Diva's fabulous Guest Rooms.
Browse Hotel Diva's San Francisco Visitors Guide.