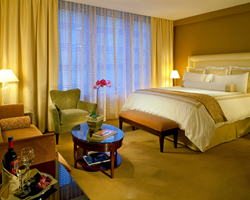 Hotel Teatro offers ideally-located Denver accommodations that are within walking distance of top restaurants, shopping, and attractions.
Denver, CO (PRWEB) October 26, 2015
Many travelers have started making their holiday plans and Hotel Teatro, a downtown Denver hotel, is pleased to announce several special offers that will appeal to holiday visitors. Hotel Teatro offers ideally-located Denver accommodations that are within walking distance of top restaurants, shopping, and attractions. Popular special offers are described below, and a full list is available on the hotel's website. View offer details >
Romance Package
Hotel Teatro welcomes couples in search of romance to enjoy this special package. Included is a great rate on a luxury guest room, a bottle of Vueve champagne delivered to the guest room, chocolate boudino with strawberries, and a generous $40 breakfast credit.
Nickel Dinner Package
Guests will arrive to a lovely floral bouquet and indulge in a pre-dinner drink and a wonderful 4-course meal at The Nickel Restaurant. The Nickel is Hotel Teatro's onsite restaurant. The culinary team works to bring the taste of Colorado to every guest.
Shopping Package
Some holiday guests at this Denver hotel may need to finish up some last-minute shopping. The Shopping Package includes a $100 gift card to the Shops at Larimer Square as well as coupons to select vendors at that shopping destination. Complimentary gift wrapping, a bottle of wine, and a $40 food and beverage credit are also included with this special offer.
Bike & Brew Package
This offer has been popular since it was first introduced. Denver is home to many craft breweries, and beer enthusiasts choose this special offer as a way to explore some of them. Guests who choose the Bike & Brew Package enjoy a special welcome in The Study which includes a charcuterie and cheese plate and local craft beer. Visit some of the nearby breweries using the Hotel's vintage bikes as transportation. A $40 breakfast credit is also included.
The special offers at this Denver Hotel change periodically, so those planning a visit are encouraged to visit Hotel Teatro's website or call 888.727.1200.
About Hotel Teatro - A Denver Hotel:
Located in Downtown Denver, Hotel Teatro - A Denver Hotel is located across from the Denver Center for Performing Arts. The luxury, Four-Diamond Boutique Denver Hotel features 109 exquisite guest rooms and suites. The Denver Hotel's meticulously-restored historic façade and newly renovated lobby has been distinguished as one of the "Top Hotels in the World" by Expedia and one of the "World's Best 50 City Hotels in the US" by Travel + Leisure.
With its moniker derived from the Italian word for Theater, Hotel Teatro delivers a thoughtfully-curated collection of experiences, 24-hour Room Service and exemplary guest amenities including pet pampering and wellness programming.
Planning a visit? Check Rates, Make Reservations, or call 888.727.1200.