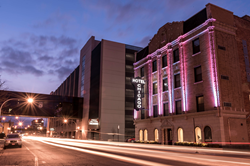 We are a value conscious, service driven hotel that gives experience-based stays – with black cars included.
Chicago, IL (PRWEB) December 01, 2016
The Hotel Chicago-Illinois Medical District (IMD) is now offering free transportation in licensed livery vehicles for all its guests. The partnership with Chicago-based FirstClass Travel, a new on-demand concierge service, allows riders to control their experience – like Uber Black but with professional chauffeurs and at absolutely no charge to guests. Owned by Chicago luxury car icon Joe Perillo, Hotel Chicago-IMD is the first hotel to launch the new black car platform, which is both an app and a smart dispatching system. The 116-room independent boutique hotel has already carved out a niche in the crowded marketplace after opening six months ago, with its "less to stay means more to play" mantra. Located on the edge of Chicago's booming West Loop, Hotel Chicago-IMD offers affordable rates so that guests will have more money in their wallet to enjoy the exciting neighborhood.
"As of today, the deal got even sweeter," said Hotel Chicago-IMD general manager Imran Jivani of his new in-house transportation amenity. "We are a value conscious, service driven hotel that gives experience-based stays – with black cars included – all for an average daily rate of $130. The paradigm is shifting!"
Guests of Hotel Chicago-IMD simply need to download the free FirstClass Travel app after they check-in to have access during their stay. With the push of a button, they can order complimentary rides throughout the City of Chicago and to/from the airports (for a fee). The white labeling application, which extends the Hotel Chicago-IMD brand, combines the convenience of an on-demand service with the security of a private black car chauffeur sourced from the certified livery company, Windy City Limousine. "We are setting a new hotel standard that is usually reserved for the top 1%," added Jivani.
Located at 1622 W. Jackson, the renovated historic building that houses Hotel Chicago-IMD is conveniently situated in between RUSH Hospital and West Loop's red hot Randolph Street dining corridor. Hotel Chicago-IMD provides a stylish European boutique option for hospital visitors, students, or savvy travelers looking to enjoy a night on the town. The art-centric property features a multitude of room types to fit every guest, including a single full, a bunk double twin, and a queen/king deluxe, with amenities like: luxurious pillow top mattress, personal Keurig, refrigerator, microwave, LCD TV with cable, ample closet space and cabinetry, sizable work area, complimentary Wi-Fi, 24-hour fitness center, complimentary coffee, in-room safe, on-site washing machines, and a private parking lot with proximity to a local garage. Hotel Chicago-IMD is managed and operated by Portfolio Hotels & Resorts.
Hotel Chicago-Illinois Medical District:
1622 W Jackson Blvd, Chicago, IL 60612
Phone: (312) 243-2900
hotelchicago1622.com
Media Contact:
Jody Grimaldi
630-470-0044
Jody(at)GrimaldiPR(dot)com