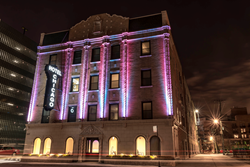 A convenient home-away-from-home for patients or families.
Chicago, IL (PRWEB) February 02, 2017
The Hotel Chicago-Illinois Medical District (IMD) is demonstrating its commitment to the community by a new alliance with American Cancer Society's (ACS) Hotel Partners Program, a cooperative effort between ACS and a select few hotels in Chicago to provide overnight accommodations for cancer patients. The agreement calls for Hotel Chicago-IMD, which is two blocks away from RUSH Hospital, to provide lodging at the deep discounted flat rate of $100 per night to pre-qualified cancer patients and their accompanying family members or caregivers who are traveling for treatment in the area.
"We built this hotel first and foremost as a convenient home-away-from-home for patients or families of loved ones at RUSH," said Imran Jivani, general manager of the 8-month-old boutique Hotel Chicago-IMD. "We understand that traveling for treatment places an additional emotional and financial burden during an already challenging time. We hope that through this partnership with ACS, we can help make these difficult situations a little easier."
While people battling cancer receive lifesaving treatment, Hotel Chicago-IMD will give them all the comforts they require to make their stay in the city more manageable – beginning with a friendly and caring staff. Operated by Portfolio Hotels & Resorts, the 116-room independent has carved out a niche in the marketplace with its hospitable approach. "From the front desk to housekeeping, our employees always welcome guests with a warm smile and an eager-to-please attitude," added Jivani. "Usually this 'heart of a servant' philosophy is all that's needed to make someone's day a bit brighter."
The art-centric Hotel Chicago-IMD features a selection of room types to fit every patient's need, including: single full, bunk double twin, and queen/king deluxe – with ADA accessibility. In-room amenities are plentiful too, with items like pillow top mattresses, personal Keurig, refrigerator, microwave, LCD TV with cable, ample closet space and a sizable work area. The property also boasts complimentary Wi-Fi, complimentary coffee, on-site washing machines, a private parking lot and a 24-hour fitness center for those patients who need to exercise.
Hotel Chicago-IMD is one of only four hotels in Chicagoland participating in ACS's Hotel Partners Program. Patients must contact ACS at 1-800-227-2345 to request a room (not the hotel direct). Once eligibility and availability is confirmed, ACS will place the reservation and provide the patient with a hotel confirmation number.
Hotel Chicago-Illinois Medical District:
Address: 1622 W Jackson Blvd, Chicago, IL 60612
Phone: (312) 243-2900
Website: http://www.hotelchicago1622.com
Portfolio Hotels & Resorts
Address: 601 Oakmont Lane, Suite 420, Westmont, IL 60559
Website: http://www.portfoliohotels.com
Media Contact:
Jody Grimaldi
630-470-0044
Jody(dot)Grimaldi(at)Gmail(dot)com