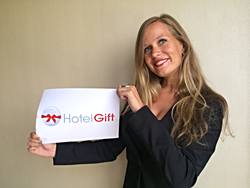 Singapore (PRWEB) August 30, 2014
Founder Loes Daniels needed a gift for her friend's birthday and due to her busy consulting life in Amsterdam didn't have time to go shopping. An hour before the birthday party she was stressing about how to get a gift and she made a note saying that her friend could pick a date and they'd go on a trip to London to celebrate. This was the birth of Hotel Gift, an online gift card, redeemable at more than 110,000 hotels in over 170 countries.
Loes explains Hotel Gift is different than other virtual gift cards as you can personalize your gift by uploading your own photo and adding a personal note. Also, the Hotel Gift website will launch including a group gift module allowing a group of friends to give a Hotel Gift while each paying separately to the site, so there is no hassle for the organizer to collect the money.
Hotel Gift launches this week in the English language and four currencies, but she has big plans. Within two months the website will launch in six additional currencies and six other languages, covering 62 countries. In combination with the worldwide hotel offerings she states Hotel Gift should become the number one worldwide hotel gift.
Loes started with the idea of Hotel Gift more than a year ago, while still working as a consultant at Deloitte Consulting in Amsterdam. Her partner, also a consultant, was planning to do his MBA at INSEAD in Singapore and Loes was doubting to join him and pursue her career in Consulting in Singapore or to stay in Amsterdam and try to make a LAT relationship work. She had the idea and ambition to run a startup since graduation from business school and she decided this was the moment to give it a go. She soon arranged angel funding and started to focus fulltime on Hotel Gift, working from Singapore.
Founding a company without a co-founder is challenging, but also gives a lot of freedom Loes states. The 2.5 years of consulting experience where the perfect startup pre-school of understanding how businesses work in real-life, being able to work under pressure and learning how to prioritize. She says startup life significantly improved her operational business skills, mainly on the area of IT, (social media) marketing, tax and accounting, making her a more all-round business lady.
Next to launching Hotel Gift worldwide Loes is working on a concept named Flight Gift Card, an online gift card redeemable for, as you can guess, flights. Again she aims to launch this concept in 10 currencies and seven languages, creating a worldwide brand in travel.
On the side she is working on building a website called Online Fashion Gift, which basically is an online gift card aggregator for fashion gift cards. She only has time for this a few hours a week, depending on the work pressure from Hotel Gift and Flight Gift Card, but she now has a basic website live. She says that although it is a frustrating process she is happy that she invests time in this, if only for improving her general IT skills.
Check out http://www.hotelgift.com for more information, to give a Hotel Gift, or to book one of the many hotels!