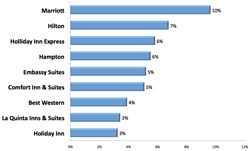 Our research shows us that delighted customers are nearly twice as likely to recommend a hotel to others, raising the stakes even higher for customer satisfaction and loyalty
Boulder, CO (PRWEB) October 30, 2013
Marriott is North America's favorite hotel chain, according to a new hospitality study conducted by Market Force Information, a worldwide leader in customer intelligence solutions. The study of 8,887 consumers ranked Hilton second and Holiday Inn Express third. All three brands received high marks in operational attributes such as service, cleanliness, room quality and amenities.
Market Force's study was designed to uncover which hotels and motels consumers prefer, which deliver the highest satisfaction, and what travelers like most about certain hotel chains. When participants were asked which hotel or motel brand they most prefer, Marriott amassed 10% of the votes, the highest of all the brands. Hilton followed with 7%, then Holiday Inn Express, Hampton, Embassy Suites and Comfort Inn & Suites. See Graph 1.
Marriott Hotels & Resorts is Marriott International's flagship brand of full-service hotels and resorts. The Washington D.C.-based company has more than 505 properties and is frequently named a best company to work for.
Most Recent Stays at Marriott and Best Western
Consumers who favor Marriott also tend to vote with their pocketbooks, as it was also the hotel chain they reported patronizing most recently for personal travel. Best Western, the world's largest hotel chain, was second on the list, followed by Hilton, Comfort Inn & Suites and Hampton. Those traveling purely for business most recently stayed at the Marriott, Hilton and Holiday Inn Express.
When looking at the nature of consumers' most recent stays, Market Force found that 70% were personal, 16% were work-related and 14% were a combination of personal and work. Just four in 10 (42%) reported that they were delighted with their most recent stay, 41% said it was OK and 17% were dissatisfied.
"Hotel brands are continuing to sprawl, giving consumers more secondary options if they're not pleased with their experience at one chain," said Janet Eden-Harris, chief marketing officer for Market Force. "And our research shows us that delighted customers are nearly twice as likely to recommend a hotel to others, raising the stakes even higher for customer satisfaction and loyalty."
Repeat Business is Key to Satisfaction in Hospitality
Does a guest's satisfaction level actually increase the longer they stay? All signs point to yes. Market Force found that those who return to a hotel and those who stay longer reported higher levels of customer satisfaction. Guests who stayed only one night had a 40% satisfaction rating vs. guests who stayed more than five nights who had 51%. Similarly, guests who said it was their first stay at a hotel had a 39% satisfaction rating compared with guests who had stayed at the hotel more than five times who gave a 48% rating.
Most Finding and Booking Online
Not surprisingly, most consumers (40%) found their most recent accommodations through the Internet – on sites such as Hotels.com, Priceline, Expedia, TripAdvisor or the hotel's website. Another 26% said they knew about the hotel because they had stayed there before, and 12% knew of it without having previously stayed there. Eight percent received a recommendation from a friend or relative. See Graph 2.
Which Chains Reign in Service Areas?
Market Force also looked at how the hotel consumers had most recently visited fared in key service attributes such as check-ins, check-outs and room service. Hampton seems to be doing the best job pleasing customers at the front desk, landing in first place for its front desk staff and check-in process, and in second place for smooth check-outs. La Quinta ranked first for friendly doormen, and Comfort Inn for efficient room service. Crowd-favorite Marriott scored in the top five across the board, as did the Hilton. See Graph 3.
Hilton and Hampton Impress in Amenities
A look at the rankings for common areas, rooms, bathrooms and other hotel amenities show the Hilton and Hampton brands distinguishing themselves from the rest of the pack. They scored first and second in each of the categories studied, with Hilton leading in lobby area, hotel amenities and bathroom quality, and Hampton in room quality, bedding quality and on-property restaurant. Holiday Inn Express was a top-five finisher in all categories, and La Quinta showed up in several areas as well. See Graph 4.
Hampton Out-Satisfies
When asked to rate how satisfied they were by their most recent hotel stay, and the likelihood they'd refer that hotel to friends and family, consumers scored Hampton above all others. Marriott, Holiday Inn Express, Hilton, Embassy Suites, La Quinta Inns & Suites and Comfort Inn & Suites also ranked high on the customer delight index. See Graph 5.
Survey Demographics
The survey was conducted in September 2013 across the United States and Canada. Of the pool of 8,887 respondents, 61% reported household incomes of less than $50,000 a year, and 30% reported incomes of more than $70,000 a year. Respondents' ages ranged from 19 to over 65. Approximately 50% were women and 50% were men, and half have children at home. Sixty seven percent said they have traveled within the past six months.
About Market Force Information
Market Force is the leading global customer intelligence solutions company for multi-location businesses, including major retailers, restaurants, grocery and convenience stores, financial institutions, entertainment studios and consumer packaged goods companies. Market Force Information has pioneered the industry with a suite of customer intelligence solutions – including proprietary decision-support tools, mystery shopping, customer and employee feedback surveys, contact center solutions, social media monitoring, and a powerful customer intelligence platform, KnowledgeForce℠. A unique asset is the company's 600,000 independent contractors across North America and Europe that can collect data in retail locations on behalf of client brands. Market Force solutions enable brands to identify the actions required at the store level to increase customer loyalty and improve financial performance. Market Force was named one of Forbes' America's Most Promising Companies and has won numerous awards for its technology and innovation. For more information, visit http://www.marketforce.com
###