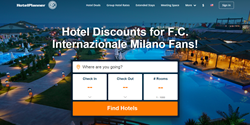 HotelPlanner is proud to be a new sponsor of Inter Milan, providing the team and fans with the best hotel booking services and pricing throughout the season. We look forward to establishing a long-term working relationship
West Palm Beach, FL (PRWEB) August 03, 2016
Since launching their sponsorship campaign, "Book Like The Pros, Book with HotelPlanner.com" in 2010, HotelPlanner's partnerships have expanded to include the services of major sports teams both locally and internationally to assist with travel accommodation.
As of today, HotelPlanner is thrilled to become Inter Milan's newest sponsor for the 2016/2017 season.
The agreement sees the leading provider of online group travel services become the elite Italian club's official hotel reservations partner. HotelPlanner will place all of the team's travel accommodations while on tour for events held outside Milan.
With a long, successful history dominating the sport since 1908 and an audience that spans across the globe, Inter Milan, or F.C. Internazionale Milano, has become one of the most famous football clubs in the world. Inter Milan's international expansion through HotelPlanner's group booking system will help drive more travel efforts to the United States and Canada for their team members, Inter representatives and employees. By delivering a customized online solution for the club's hotel booking needs, HotelPlanner will help Inter Milan take advantage of this emerging online group travel marketplace.
Tim Hentschel, Co-Founder & CEO of HotelPlanner.com, welcomed the partnership, saying: "HotelPlanner is proud to be a new sponsor of Inter Milan, providing the team and fans with the best hotel booking services and pricing throughout the season. We look forward to establishing a long-term working relationship."
Michael Gandler, Chief Revenue Officer of Inter Milan, commented on the announcement, saying:
"Inter Milan are pleased to welcome HotelPlanner to our family of sponsor partners at the Club. We are looking forward to working together and to benefiting from HotelPlanner's resources and online customized booking system."
Through a dedicated link https://www.hotelplanner.com/Intermilan, HotelPlanner will also be available for fans, sponsors and 'Inter Club members' to take advantage of offers on hotel accommodations traveling to the stadium or attending away games.
Inter Milan and HotelPlanner will work together to actively promote, engage and facilitate the partnership via all available media and digital platforms.
About F.C. Internazionale Milano S.p.A.
Founded in 1908, Inter Milan is globally renowned as one of the world's most successful football teams. Erick Thohir has been president since 2013. The club's trophy haul includes 18 Italian league titles, 7 Coppa Italias, 5 Italian Super Cups, 3 UEFA Cups, 2 European Cups, 1 UEFA Champions League, 2 Intercontinental Cups and 1 FIFA Club World Cup. Inter Milan is one of the seven teams to have done the treble – Champions League, National Championship and National Cup – in the same year (2010), and the only Italian club never to have been relegated in its 108-year history.
Inter Milan is a global brand with more than 250 million supporters worldwide. Inter Milan's home is the Stadio Giuseppe Meazza, a 78,326-seater arena that is among the world's most famous and frequently visited stadiums (over four million tourists each year). The stadium hosted this year's UEFA Champions League Final.
About HotelPlanner
HotelPlanner.com provides group hotel booking services to 3,000 groups per day in the global group travel market. The company's group hotel booking service ensures the lowest rates by allowing customers to receive quotes online directly from hotel group sales managers. HotelPlanner allows customers to book hotels for business meetings, conferences, conventions, family reunions, weddings, extended stays, tours, military reunions, church events, and group travels. The company also provides mobile applications for booking group hotel reservations. The company owns and operates Meetings.com, a site that provides information, planning and booking services for group, meeting, and individual hotel stays for the corporate, associations and business to business enterprises. With a mission statement geared towards, "Bringing People Together," HotelPlanner & Meetings.com are the global experts for hotel sourcing, providing direct clients and market leading affiliates with unmatched group and event discounted room rates plus localized service levels not available at other travel companies. Founded in 2002, the company has offices in London, England (European Headquarters), Hong Kong (Asian Headquarters), West Palm Beach, FL (USA Headquarters), and Las Vegas, Nevada.
HotelPlanner.com is proud to provide hotel reservation services to valued clients within the sports team and university, corporate, and government organizations. The company's Pro Sports Team clients most notably include Matchroom Sport, San Diego Chargers, Washington Redskins, St. Louis Rams, Professional Bowlers Association, European Professional Golfers (EuroPro), Super League (Rugby), AFC Wimbledon, Millwall F.C., and Queens Park Rangers F.C. In terms of college travel, Universities such as Texas A&M, New Mexico State, Saint Mary's College, Bradley University, University of Reno-Nevada, University of Illinois-Chicago, Northeastern University, Cal Poly, and California State University Northridge use HotelPlanner to negotiate their group travel and recruiting stays. Corporations such as CROMPCO, Siemens, Jackson Motor Sports, National Grid, Chicago Bridge & Iron, Publix, and Servpro and Government clients such as the State of Mississippi, Government Services Agency, US Marines-Camp Lejeune (Group), and US Communities also utilize HotelPlanner.com as their hotel procurement provider to negotiate hotel rates, book hotel reservations and provide excellent service year-round.