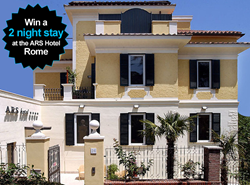 This HotelREZ competition is the perfect blend between the elegantly modern boutique 4* Ars Hotel and a city laced with glorious antiquities and baroque architecture.
(PRWEB UK) 23 August 2013
Spend two glorious nights with HotelREZ in one of the greatest of European capitals - Rome, the Eternal City. Located in the city centre, 15 minutes from the Galleria Borghese, the Vatican Museum and 10 minutes from Porta Pia, Via Veneto and the Spanish steps, Ars Hotel offers 48 rooms, all with large comfortable beds and pillows, providing every modern amenity as well as a terrace. Each room is equipped with Sky TV, adjustable air conditioning, free Wi-Fi, terrace and a bathroom with a shower or a tub. Other amenities include laundry services, room service and a gym.
This HotelREZ competition is the perfect blend between the elegantly modern boutique 4* Ars Hotel and a city laced with glorious antiquities and baroque architecture. Revered and rightfully acknowledged for its great food, fine art and history, Rome celebrates modern life aesthetics to the full. As the Vatican's St. Peter's Basilica lords over the city-centre palazzi government offices, HotelREZ understands that Rome is a destination where its magnificent sights cannot hide the true soul of the city. From Vespa riders exchanging vociferous greetings while passing on cobblestone backstreets to the neighbourhood pizzerias, coffee bars, trattorias, restaurants and gelateries, competition winners will discover modern day Rome.
HotelREZ's complimentary trip to Rome aims to raise awareness of how traditional culture can be and is amalgamated into leisure tourism. It is as much about embracing the contemporary Roman lifestyle as it is being enamoured with ancient ruins, roadside shrines (maddonelle) telling of past lives and local beliefs, sights such as the Pantheon and majestic reminders of the vast Roman Empire. Amongst all these breath taking attractions, there will still be time to be involved in a Roman tradition that is both testament to the merge between the historic and the contemporary, and has been well preserved over the centuries; food and wine. The local spirit dictates good food and wine as being an establishment to Roman social life.
To participate please click on the following link to take you to the competition page: http://www.hotelrez.co.uk/competition . Once at the page, simply answer the question by choosing one of the options available. That is all!
*Submit answers via the link above as soon as possible and guarantee a chance to join HotelREZ for a complimentary two night's stay for two people with breakfast, including a complimentary Prosecco reception, at the marvellous 4* Ars Hotel, Rome.
About HotelREZ
HotelREZ is a hotel representation company providing distribution, revenue, sales and marketing services and support to over 1,000 independent hotels and small hotel groups in over 30 countries. HotelREZ are a global team of hotel industry professionals, who understand what is needed to help hoteliers build a successful business. We know our local markets and work hard with our hotel members to optimise revenue.
HotelREZ is a UK based company, with an international presence with staff in local markets.
It is one of the world's largest yet tailored hotel representation companies, with international alliances, exclusive partnerships and a global footprint.
Visit our websites http://www.hotelrez.net/ and http://www.hotelrez.co.uk/ .
*All answers must be submitted by Wednesday October 2nd 2013.