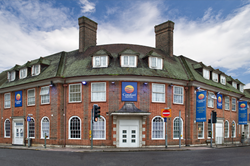 The Hotel is located on Mill Street, Luton at the heart of Luton City Centre. All travel links are within short walking distance, as are all well known amenities in Luton.
Luton, bedforshire (PRWEB UK) 8 July 2014
Come and stay in one of the Hotels in Luton for a weekend this summer. Luton always has a packed schedule of events with no shortage of attractions for all ages. Paintballing with Delta Force and the Wardown Park Museum are just a couple of the attractions to visit during a trip to Luton.
Delta Force Paintball Luton is the latest addition to the family of paintballing centres. Offering original action-packed game zones including a Sheriffs castle, dawn of the dead, a zombie themed game zone and Wild Wild West, a cow boy styled village. Gather some friends and pepper each other in this fun filled activity.
For something a little different, the Wardown Park Museum situated in the beautiful landscaped Wardown Park, on the outskirts of Luton town centre. The museum offers a range of displays including the popular Luton Life Gallery and the Bedfordshire and Hertfordshire Regiment Gallery. The museum also holds around four temporary exhibitions a year on different concepts. Wardown Park Museum offers events and activities for all ages and interests throughout the year. A cosy tearoom serving drinks and snacks and museum shop selling souvenirs, local history publications and old photographs are also on offer to top off a great day out.
Take a day out to visit Whipsnade Zoo; it is just a 30 minute drive from the Comfort Hotel Luton and a fantastic opportunity to view some great animals from all corners of the globe. With a scheduled activity list on a daily basis such as chimp talk, bear brunch, peckish penguins and the 'mane' attraction.
There are so many great things to do in Luton, especially with the summer holidays just around the corner.
Luton's perfect location is only a stone's throw away from the following attractions:

Theme parks and waterparks
Swimming pools
Museums
Indoor play centres and soft play for toddlers
Petting farms, wildlife parks and zoos, aquariums
Horse riding
Castles, steam railways, pottery making and ceramic cafes
Roller and ice skating rinks, karting tracks, dry and indoor ski slopes
Climbing walls, activity centres, outdoor play at the best local parks
Ten pin bowling alleys and a host of other family/tourist attractions to visit during the week and at the weekend.
There are no better Hotels in Luton than the Comfort Hotel, Only a few minutes' walk to Luton Railway Station and Luton Airport is just ten minutes away, The Comfort Hotel London Luton provides guests with excellent business and family facilities and a location that is second to none. After a long day of travel, guests can start to relax the moment they walk into the warm, welcoming atmosphere of the hotel, if that is not good enough, they are currently offering 10% off any stay this summer.