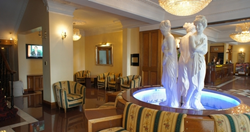 Westpoint hotel offers easy access to London's top tourist attractions
London (PRWEB UK) 16 October 2014
It's that time of the year again to get warm and cosy and enjoy the cold season. There is no better time than now to visit London Paddington, the iconic beautiful city that is full of history.
Paddington is a district within the City of Westminster, in central London. Formerly a metropolitan borough, it was integrated with Westminster and Greater London in 1965. Three important landmarks of the district are Paddington station opened in 1847; St Mary's Hospital; and Paddington Green Police.
There's nothing like the sparkle of London's beautiful astonishing Christmas lights to give the city of Paddington London an instant festive makeover, the sweet Christmas carol songs at Hyde Park. The walk in the cold winter night in the beautiful dazzling light across the park.
The most magical fairy-tale is brought alive at winter wonderland the spectacular festive fair at Hyde Park just few minutes' walk from Paddington London, with lots of things to do that would attract all ages from experiencing the thrilling rides, ice skating through the dazzling lights, browsing the Christmas markets, trying different festive food and enjoying the festive music a fantastic way to get in the mood for winter and soak up the festive atmosphere.
There are tons of cheap and affordable hotels in Paddington London, Westpoint hotel in Paddington London is located in the centre of London and linked to all travel links and station it is expertly located. It's the perfect hotel for tourists who love experience, with modern amenities such as free Wi-Fi.
For Tourist looking for a more stylish and modern hotel to stay at in Paddington London at an affordable price. Westpoint hotel offer a more spacious interior with extra amenities and superior rooms. Including bed and breakfast buffet with hot and cold items offered.
Not all hotels aim to please and satisfy their customer but at Westpoint hotel, pleasing and satisfying customers is keen. Ensuring customers that they have the best experience during their visit is important at Westpoint hotel.
Westpoint hotel offers easy access to London's top tourist attractions and landmarks including the Royal Albert Hall, Buckingham Palace, Kensington Palace, the Houses of Parliament, and many more.
Want to Book a hotel in London Paddington.Westpoint hotel is one of the most affordable hotels in Paddington with all rooms well-furnished and equipped with ensuite showers. Book in advance.