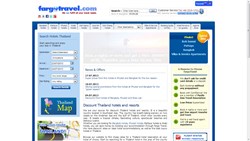 Bangkok, Thailand (PRWEB) January 16, 2014
Fargotravel.com, the premiere online travel agency for Thailand tourists is offering complimentary airport / hotel transfer on booking minimum four nights' stay at Lebua at State Tower. The offer remains valid for the month of January only.
One of the company executives said, "Lebua at State Tower is one of the best hotels in Bangkok. The hotel redefines luxury with its passionate design and plush hospitality features. It is something more than a destination where your can have a world class lifestyle experience. Enjoy the most opulent experiences at Lebua at State Tower, Bangkok along with complimentary airport / hotel transfer. The best thing about staying in Lebua is that its suites are priced competitively in comparison to other five star hotels in Bangkok."
Fargotravel.com is known for offering great deals and discounts to its world wide clients who are due looking forward to visit Thailand in near future. The company specializes in chalking sightseeing tours and making reservations for stay in Phuket, Chiang Mai, Bangkok, Pattaya, Hua Hin and a number of other tourist destinations in Thailand. This is the place to be for bagging best tour packages in Thailand.
"We have hundreds of deals, discounts and offers that are running on our website as of now. You can select one for yourself, the best that fits your taste, needs and budget. All we ask for is communicate us your idea of a dream holiday. We will fetch you the best deals in hotels of Bangkok, Krabi, Phuket and Pattaya," added the executive.
Fargotravel.com is one of the best websites for booking hotels in Pattaya, Thailand and other tourist destinations of countries in South East Asia. The travel enthusiasts who opt for Fargo's services, they have the option to compare hotel rates, services and facilities. The company's website is an ideal place for booking Koh Samui villa, exclusive resorts in Bangkok, Pattaya, Phuket, Krabi, Hua Hin and Koh Samui.
About Fargotravel.com:
Fargotravel.com is an online venture of FARGO Company Limited which was established in 1994. The travel agency is known for arranging sightseeing tours, planning adventure trips and reserving hotels for its clients on highly discounted rates. To have a look at Thailand maps, click here.
Contact Details:
Fargotravel.com
128 / 361 Phayathai Plaza 33 Floor, Phayathai Road,
Ratchathewi District, Bangkok 10400 Thailand.
Phone: (662) 219-1722
Fax: (662) 219-1713
Website: http://www.fargotravel.com/