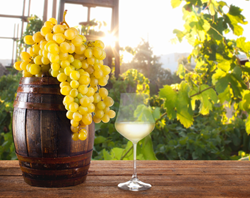 This is also a great time of the year to get out on the greens. We have golfers from all over the country come stay with us
Montrose, Colorado (PRWEB) April 09, 2015
This spring, wine lovers and adventurers should look no further than Montrose, Colorado for a quick getaway. Hundreds of visitors will flock to the annual Montrose Wine and Food Festival to take in the local flavors and breathtaking landscape of Western Colorado on May 9 and 10. Hotels near Montrose Colorado are booking up quickly for this event. Days Inn Montrose invites guests from around the country to grab a room at the centrally located hotel and enjoy full access to the festival activities and adventure packages throughout Montrose.
The Montrose Wine and Food Festival, which began in 2002, presents a platform for local chefs to pair meals with an array of fine wines, beers, and spirits. Tickets to the event cost $75 and all proceeds go to a children's charity each year. This year, the funds raised will be presented to CASA of the 7th Judicial District and Black Canyon Boys and Girls Club. Since its beginnings, the Montrose Wine and Food Festival has raised over $500,000 for children's charitable organizations in Montrose, Colorado.
Days Inn Montrose owner Brandon Hert comments, "We have watched the festival grow to become a full-scale event that draws in visitors all over the country. Montrose has so much to offer in terms of food and entertainment, not to mention the mountain views and outdoor activities. The Montrose Wine and Food Festival presents a great opportunity for people who want to adventure by day and relax and enjoy some world-class culinary talent at night. We have been accommodating guests who come to Montrose for the whole experience for years. For most, it's an annual event and mini-vacation that they will not miss."
He adds, "This is also a great time of the year to get out on the greens. We have golfers from all over the country come stay with us and play at The Bridges, Black Canyon Golf Course, or Cobble Creek, then head over for a great night out at the festival."
Montrose visitors will have a number of options for day-time activities from which to choose. Montrose, Colorado boasts exceptional biking, birding, climbing, fishing, golfing, hunting, and river-rafting opportunities like none other. Families can begin the day with a scenic drive through the Alpine Loop Back Country, the Bachelor Historic Loop, the Grand Mesa Byway, or the San Juan Byway. Trekking paths and tours are available through the Black Canyon of the Gunnison National Park, Gunnison Gorge National Conservation Area, or the Grand Mesa, Uncompahgre and Gunnison National Forest. At the end of the day, grab a hearty meal, a glass of wine (or two) and head over to the Days Inn Montrose for a comfortable night's rest.
To book a room at Days Inn Montrose or learn more about the Montrose Wine and Food Festival, visit
http://montrosedaysinn.com/ or call 1-970-642-3564. The Days Inn Montrose is located at 1417 E Main St
Montrose, CO 81401.
###
Family owned and operated, Days Inn Montrose offers all the amenities of home, while outdoor adventures await just outside the door. Days Inn Montrose is situated in scenic South West Colorado near Grand Mesa National Forest. The hotel offers an on-site gym, a heated pool and hot tub, high speed internet access, free parking for cars, trucks, and RVs, and a pet-friendly environment. All hotel rooms are equipped with a microwave and refrigerator. Guests are treated to a daybreak continental breakfast and homemade cookies to cap off the evening.
This press release has been crafted and distributed by Green eSolutions, an internet marketing team of professionals with a passion for technology, design, brand awareness, and innovative strategies for lead cultivation.