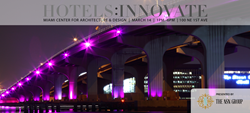 Our vision is to facilitate candid discussions among thought-leaders, jumpstart new ideas, create trends and strengthen business opportunities.
Miami, Florida (PRWEB) March 05, 2014
HOTELS INNOVATE™ is part of a series forum produced by The NSN Group featuring cutting-edge discussions on creating bespoke guest experiences. The agenda is tailored to bring together the best minds in the hospitality industry, to present their perspectives on relevant trends ranging from real estate development to hotel branding, highlighting innovations in design, technology, products, and services that are driving the next stage of hospitality projects. This event presents a unique opportunity for attendees to collaborate, share, learn, and gain invaluable insight on cutting-edge issues and ideas among an intimate gathering of like-minded professionals against the backdrop of an informal, unconventional space.
At HOTELS INNOVATE™ Miami, the focus will be on region-specific topics spotlighting key trends in the Miami hotel and real estate market. The March 14th Miami event will feature two panels showcasing innovators who are re-defining the hospitality experience.
The Power Players panel includes:

Moderated By: Alicia Cervera Lamadrid, Managing Partner, Cervera Real Estate
Jessica Goldman Srebnick, CEO, Goldman Properties
Raul Leal, CEO, Virgin Hotels
Nitin Motwani, Managing Principal, Miami Worldcenter
Neil H. Shah, President and COO, Hersha Hospitality Trust
The Taste Makers panel includes:

Moderated By: Michael Adams, Editorial Director, Hospitality Design Magazine
B. Tuckey Devlin, President, Hemingway Hotels and Resorts
Jeff Lehman, Managing Director, The Betsy Hotel
Chad Oppenheim, AIA, Founding Principal, OPPENHEIM Architecture + Design
Allan Shulman, FAIA, Founding Principal, Shulman + Associates
The NSN Group chose the new Miami Center of Architecture and Design (MCAD) to host the forum based on its innovative architectural approach towards design, programming and community activism. MCAD provides an inspirational backdrop for this incubator-style gathering.
The interactive ½ day forum is a fresh approach to seeking an intellectual perspective on relevant trends for this industry. The HOTELS INNOVATE™ series is designed to travel through regions in order to capitalize on collaboration and highlight trends and challenges specific to a geographical location. After its debut in Miami, the series will travel to London, New York City and Dubai in 2014.
Nikita Sarkar, CEO of The NSN Group says, "HOTELS INNOVATE™ is an incubator-style forum where insight and inspiration come together for a day to explore innovation in the hospitality industry. Our vision is to facilitate candid discussions among thought-leaders, jumpstart new ideas, create trends and strengthen business opportunities. The high-profile speakers who will be joining us at HOTELS INNOVATE™ Miami to share their insights and the positive response we have received from our partners and sponsors is a testament to having struck the right chord with this timely topic of discussion. We look forward to a wonderful afternoon with inspiring industry friends."
About HOTELS INNOVATE™
http://www.hotelsinnovate.com
This senior level forum is open to only 150 attendees, comprising of developers, owners and operators as well as architects, interior designers, tourism and travel companies and marketing and branding gurus. Advance registration is required to reserve a spot.
About The NSN Group
http://www.thensngroup.com
The NSN Group offers hospitality business solutions by bringing together a group of entrepreneurial specialists who are passionate about various facets of the industry. The NSN Group provides a broad range of strategic consulting services as well as production of high-profile thought-leadership events.
Nikita Sarkar, the CEO and Founder of The NSN Group, is a global hospitality and spa business strategy consultant. From fashion ramp to corporate boardroom, Nikita Sarkar has worked with a myriad of businesses. Given her cross-continental experience and passion for travel, Nikita believes in working in a global networked economy. Her passion is "Connecting the Dots" and bringing talent and ideas together that translate in to high quality strategy, teamwork and projects. Nikita's career spans more than 14 years of project management and client-facing experience in North America, Asia, Middle East and North & Sub-Saharan Africa. Prior to undertaking independent consulting, Nikita worked within Ernst & Young's Hospitality, Leisure and Real Estate team, for over 4 years in the New York and Dubai offices. Before that, Nikita worked as the Director of Research at SpaFinder, Inc. in New York City.