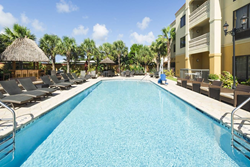 MCR implemented hotel SalesPro across its original portfolio several years ago. It is a great sales system.
Atlanta, GA (PRWEB) April 30, 2014
hotel SystemsPro announced that MCR Development LLC expanded its use of the hotel SalesPro web-based Sales and Catering system to include 26 hotels that it recently acquired. MCR manages 56 premium-branded hotel properties with approximately 7,000 rooms. The company uses hotel SalesPro throughout its portfolio of Hilton and Marriott brand properties. hotel SystemsPro is a leading provider of ASP-based enterprise hotel sales software, maintenance automation, and guest service solutions. Click here for more information on hotel SystemsPro products.
hotel SalesPro integrates expanded sales teams
"MCR Development uses hotel SalesPro throughout its portfolio and we were pleased that the 26 properties we recently acquired also relied on hotel SalesPro," said Kelley McCoy, regional director of sales for MCR Development LLC. "This enabled us to seamlessly manage group and corporate sales as we expanded. MCR implemented hotel SalesPro across its original portfolio several years ago. It is a great sales system." McCoy noted that MCR will likely provide policy training for the new properties. "We will retain our new properties' group account history so we will have a smooth transition. We know the tool and, will begin cross selling the accounts we originated to retain and expand our business."
Web-based sales tracking coordinates teams in multiple markets
McCoy said she values the ability to manage and coordinate sales efforts for all properties centrally on one system. "We operate several brands in many markets. Since hotel SalesPro reporting is cloud-based, I can log in from my browser anywhere and monitor individual property performance against goal to assist my teams and increase sales." Many of MCR Development's corporate accounts do business under numerous division titles. McCoy explained the sales system links these various divisions to the parent account for accurate tracking.
"To prepare for meetings with our new property sales teams, I remotely review their hotel SalesPro account database to track group performance," said McCoy. "This allows me to identify corporate accounts we can serve better through the acquisition. I review group rates, how many calls the team has made, who they contacted, account growth, potential and their sales processes. This helps me ask the right questions. hotel SalesPro is an excellent tool that will help us to grow each property's business and assist our sales teams."
hotel SalesPro is an affordable ASP-based, multi-property corporate sales system that enables hotel sales people to be more productive and generate higher revenue. The system provides centralized account and performance tracking, CRM, account and contract management, traces, and reporting. MCR will initiate webinar sales system training sessions for our sales teams. "hotel SystemsPro recently participated in our annual meeting by providing a sales breakout session. This has set the standard for additional webinar sales system training classes for our new and existing properties," McCoy said.
About MCR Development LLC
MCR Development LLC is one of the twenty largest hotel owner-operators in the country and manages a portfolio of 56 premium-branded hotel properties with approximately 7,000 rooms in 15 states. MCR operates hotels under 9 brands and has approximately 2,000 employees.
About hotel SystemsPro
hotel SystemsPro is an award-winning technology innovator founded in 1996. Over 90% of its employees have hotel operational backgrounds. The company's solutions and services help hotel operators and multi-property hotel groups efficiently manage assets, increase sales, and reduce operating costs. hotel SystemsPro's tailored solutions scale across all property types and any flag. Its staff provides professional, personalized online training at no additional cost. A single, global sign-on to hotel SystemsPro's product suite lets managers seamlessly toggle between mulitple property systems and reports, to validate staff activity 100% of the time - 24/7, anywhere, anytime - in less than 60 seconds. hotel SystemsPro can disable a user's ability to access data in less than 1 minute. We make our clients' staff and assets more productive.
Products include:
hotel SalesPro, a web-based multi-property enterprise sales and catering system. Its scalable functionality increases sales efficiency for hotel chains and independent properties.
hotel ServicePro, an economical hotel maintenance solution that preserves property asset value and improves guest service. It automates the communication, scheduling, tracking and reporting of tasks that surround guest requests, best practices, safety requirements, and preventive and equipment management.
hotel WebSpace, an online marketing solution that enables properties to tailor their web presence and attract more business. It converts browsers to buyers on search engines like Google, Yahoo and Bing.
hotel ProposalPro: this two-tiered, web-based response to RFPs generates a quick proposal, or can propagate the RFP to 10 properties for multiple responses.
For more information, please visit http://www.hotelsystemspro.com.
Exchange ideas and connect with hotel SystemsPro on Twitter, Facebook, LinkedIn, and Google+.