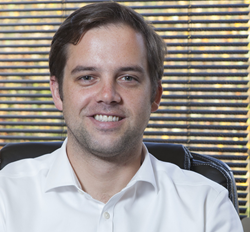 hotel SystemsPro and its clients are fortunate to have Patrick Scully on the team. His background is a perfect organizational fit that supports our focus on quality solutions that help clients be successful.
Atlanta, Georgia (PRWEB) December 17, 2013
hotel SystemsPro – a leading provider of ASP-based enterprise hotel sales software, maintenance automation, and guest service solutions – named Patrick Scully as director of product strategy. Scully joins the company with extensive hotel operations and hospitality software product development experience that enables him to serve hotel SystemsPro clients and strengthen its solutions. Click here for more information on hotel SystemsPro products.
"hotel SystemsPro and its clients are fortunate to have Patrick Scully on the team. His background is a perfect organizational fit that supports our focus on quality solutions that help clients be successful," said Edie Chandler Lowe, hotel SystemsPro senior vice president. "Patrick knows the industry from the inside and understands both sides of the technology service equation." Most recently, Scully was director, America's sales & operations for a leading hospitality solutions provider and a former general manager of the Hotel Indigo in Athens, Georgia.
Scully will be responsible for the expansion of the company's hotel SalesPro sales and catering system and oversee the third-party vendor interfaces that communicate with it. He will also work with hotel SystemsPro users and focus groups to identify the most valuable functionality and move these processes into the solution set.
"Patrick has a true passion for finding the best solution to client needs," Lowe said. "He translates those needs into successful products. He is a strong addition to the hotel SystemsPro team. He will engage with our user community to ensure we are meeting their needs and exceeding their expectations." Scully joined the company on October 1 and reports to Phil Beilke, vice president of product strategy.
hotel SystemsPro provides the hotel ServicePro maintenance, guest service and communication system; the hotel WebSpace online marketing solution; and hotel ProposalPro, an easy to use web-based RFP response solution in addition to its hotel SalesPro Sales and Catering system.
About hotel SystemsPro
hotel SystemsPro is an award-winning technology innovator founded in 1996. Over 90% of our employees have hotel operational backgrounds. The company's solutions and services help hotel operators and multi-property hotel groups efficiently manage assets, increase sales, and reduce operating costs. hotel SystemsPro's tailored solutions scale across all property types and any flag. Our staff provides professional, personalized online training at no additional cost. A single, global sign-on to hotel SystemsPro's product suite lets managers seamlessly toggle between mulitple property systems and reports, to validate staff activity 100% of the time - 24/7, anywhere, anytime - in less than 60 seconds. hotel SystemsPro can disable a user's ability to access data in less than 1 minute. We make our clients' staff and assets more productive.
Products include:
hotel SalesPro, a web-based multi-property enterprise sales and catering system. Its scalable functionality increases sales efficiency for hotel chains and independent properties.
hotel ServicePro, an economical hotel maintenance solution that preserves property asset value and improves guest service. It automates the communication, scheduling, tracking and reporting of tasks that surround guest requests, best practices, safety requirements, and preventive and equipment management.
hotel WebSpace, an online marketing solution that enables properties to tailor their web presence and attract more business. It converts browsers to buyers on search engines like Google, Yahoo and Bing.
hotel ProposalPro: a two-tiered, web-based response to RFPs that generates a quick proposal, the system can also propagate the RFP to 10 properties for multiple responses.
For more information, please visit http://www.hotelsystemspro.com.
Exchange ideas and connect with hotel SystemsPro on Twitter, Facebook, LinkedIn, and Google+.