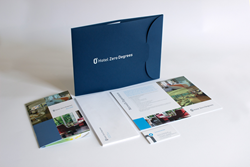 JB Design helped us implement a system that is flexible, yet unites our properties and people in delivering the same brand promise everywhere.
Norwalk, Connecticut (PRWEB) January 17, 2017
Hotel Zero Degrees is one of the hottest boutique hotel groups in Connecticut's leading cities. As the group has expanded, first bringing acclaimed design and guest experience through their Stamford and Norwalk properties, and now on the cusp of launching two new hotels, they realized it was time to consolidate their brand messages and unify their communications.
They enlisted the help of JB Design, a branding and marketing communications agency in Norwalk, CT to refine their brand story and develop targeted messaging to address the needs of their diverse clients. The agency focused on the brand's core elements, and created an updated logo, collateral materials, employee manual and responsive website—all of which united the Hotel Zero Degrees experience across its growing portfolio.
"We have a heart and a soul--we are not a cookie-cutter hotel", adds Senior Director of Strategy & Development, Stephanie Sambeat Odenath . "In addition to tremendous personalization, we need to communicate our shared values, regardless of the property we're talking about. JB Design has helped us to implement a system that is flexible, yet unites our properties and people in delivering the same brand promise everywhere."
J Berry, the agency's president, adds: "Our focus is to create a unique brand essence for every client we do work for, and ensuring that every brand has a unique story to tell. It makes it easier when you have a great story to begin with, like Hotel Zero Degrees".
As Hotel Zero Degrees prepares to launches its newest property located at 15 Milestone Road in Danbury, it has the tools to continue providing exceptionally personalized service, creating unforgettable experiences for its treasured guests everywhere.
Click here to find out more about the successful launch.
More About JB Design
JB Design is dedicated to creating a superior visual identity across a range of media. JB Design conceives, creates, designs, and implements communications of all kinds including corporate and brand identity programs, web sites, apps, brochures and packaging.
More About Hotel Zero Degrees
The Hotel Zero Degrees brand combines modern design and exceptionally personalized service. The unique hotels nurture and inspire guests, creating unforgettable experiences. An alternative to colossal and impersonal, Hotel Zero Degrees goes against the expected by being refreshingly boutique and personal.