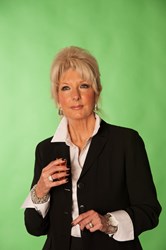 We hope that more women come to see our mini-fan as a new best-friend-in-their-pocket.
Ottawa, Canada (PRWEB) November 26, 2013
BlowMeCool Inc. has announced today that it will join in the mission of CureDiva, the first ever personalized lifestyle solutions online shop for women facing breast cancer. BlowMeCool will join CureDiva in helping to improve the lives of women facing breast cancer at each phase of treatment by offering its signature product, the BlowMeCool mini-fan.
BlowMeCool's mini-fan was designed to quietly deliver a powerful, soothing stream of air to provide relief from Hot Flashes while the fan sits "hidden" in the hand. This allows women to be more discreet when they want to manage annoying hot flashes with more style and grace. By helping women to discreetly manage Hot Flashes, BlowMeCool seeks to be one small part of the solution for women facing cancer treatments.
"By pulling together everything in one place, CureDiva has made it easy for women to fulfill their needs as they go through an otherwise trying and demanding challenge in life. At such times you need all the help and support that you can get. Keeping a fan always available to help cool yourself is new habit for most women. We hope that more women come to see our mini-fan as a new best-friend-in-their-pocket," says Brian Burge, Founder and Inventor of BlowMeCool.
"We are thrilled to have BlowMeCool joining us in our mission to improve the lifestyle needs of women facing breast cancer," said CureDiva co-founder Ester Gofer. "We look forward to offering the BlowMeCool mini-fan to our divas."
BlowMeCool supports women's health and wellness advocates, and organizations dedicated to helping women navigate their way through significant changes in life.
For more information on BlowMeCool, please visit http://blowmecool.com/video/ or for further information on CureDiva, please visit http://www.CureDiva.com .
About BlowMeCool Inc.:
BlowMeCool Inc ™ is a 2 year old company based in Ottawa, Canada. Inspired by his wife, Brian Burge company founder thoughtfully designed a unique mini-fan for women in the peri-menopause and menopause stages of life who seek relief from annoying hot flashes – in a discreet fashion.
Women have shared with us that an immediately accessible, yet subtle method to cool and dry during hot flash episodes is important to them. Also, women have told us that they don't want to broadcast the fact that they have reached that certain stage in life, and that it's important for them to have some grace when keeping cool. "I saw too many women grab for anything available and frantically fan away at the air in an effort to cool their face and head," says Brian Burge. As our slogan suggests, we think that it's important to "Be cool when you're hot".
Men experiencing andropause, as well as, young women have tried the fan and agree that it is an inexpensive way to stay dry. After dancing, exercise, or any activity or environment that raises the body temperature BlowMeCool delivers relief. BlowMeCool Inc., is delighted to learn that users are also discovering our small rechargeable fans have a wide range of uses; and that there are many situations when a "friendly little fan" is good to have handy.
Regarding the name: The name BlowMeCool describes in one word exactly what the product does.
About CureDiva:
CureDiva is the first ever, personalized, lifestyle solutions store, for women coping with Breast Cancer. It is a one of a kind, high-end shopping & community platform that provides women, at every treatment phase, with all of their non-medical needs.
Today, it's so hard to know what is available and where to find what you need, throughout each of the treatment phases. Created by single mother and breast cancer survivor, Efrat Roman, CureDiva offers all of the answers and products in one fashionable & stylish place, along with community support; helping women feel like "Divas" before, during and after treatment. Visit http://www.CureDiva.com for more information.