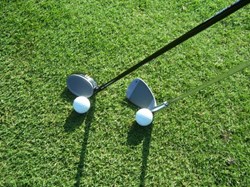 Simplify Your Short Game With One Of The Hottest Golf Wedge Designs by Black Magic Wedge
Nationwide (PRWEB) December 18, 2013
The Black Magic hottest golf wedge design has a hybrid body that slides very easily over the turf or through the sand without digging like standard wedges. The wedges have an iron face that gives players great control and spin just like you would expect from an iron. The clubs have received great golf wedge reviews from customers worldwide along with top pro instructors like Dean Reinmuth. The wedges are available in 5 different lofts from a 60 degree lob wedge to a 37 degree chipper that is very versatile from a 7 iron distance and in. Players having trouble with bunker shots entering the sand on the right plane and distance behind the ball should find these wedges much easier because a player can enter the sand as much as 6 inches behind the ball with the club just sliding through the sand lifting the ball effortlessly, a spokesperson stated.
The Black Magic Wedges fully Conform to USGA Rules and feature a wide sole along with an iron face that has the leading edge that completely wraps around the heel of the club with the hosel attached to the body of the club. These wedges were designed from the ground up so players could naturally lay the face open for cut shots to keeping the face square without the worry of a shank.
According to recent comparisons of golf wedge rates the Black Magic Wedges are priced remarkably affordable and should make a great addition to any player's arsenal. For more information regarding the Black Magic Wedges, visit http://www.blackmagicwedge.com.
ABOUT:
Blade Runner Golf, Inc. is a company devoted to the notion that a golfer's short game can make all the difference in his or her final score—but you can take your short game to the next level only if you have the right equipment. Black Magic's hybrid wedges Conform to USGA rules, but also helps golf enthusiasts find new precision and power as they make their way onto the putting green and they can be accessed on the web at: http://www.blackmagicwedge.com.
Contact:
Black Magic Wedge
10850 Dover Street
Suite 500
Westminster, CO 80021
Toll Free 877-799-6099