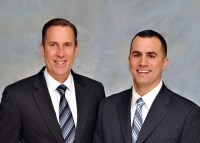 Many of these towns are also showing large increases in population as well as home sales.
Waltham, MA (PRWEB) August 01, 2013
McGeough Lamacchia compiled data provided by The Warren Group that compared home sales for the second quarter of 2013 to home sales for the same period in 2012.
McGeough Lamacchia Realty ran this report to find towns in Massachusetts which showed the largest increases in the number of home sales, factors which the company uses to determine whether a town is becoming a sought after location for homeowners. Towns had to have a minimum of 25 home sales in the second quarter of 2013 to be considered for the list.
John McGeough and Anthony Lamacchia, co-brokers and owners of McGeough Lamacchia, examined the list of the hottest towns in Massachusetts and saw that all of them had characteristics home buyers are looking for when choosing where to live: amenities like shopping, parks, and cultural attractions, affordability, good school systems and commutes, low crime rates and an overall high quality of life.
"Many of these towns are also showing large increases in population as well as home sales," says Anthony Lamacchia, "Upton's population surged 33% since 2000, and Rehoboth's population increased 14%."
The data also showed median home prices for many towns on this list for the second quarter increased significantly compared to the second quarter in 2012. The increase in prices is due to the low inventory of homes available for sale, which has increased competition for homes.
In January of this year, housing inventory levels dropped to just 22,000 homes for sale in Massachusetts, the lowest amount of inventory since 2004. With more home buyers looking and fewer homes available, McGeough Lamacchia say they saw more bidding wars than ever, which contribute to the increase in selling prices as well.
"Homeowners thinking about selling should take advantage of this market," says John McGeough. "This list shows that home sale increases aren't limited to just one area; home sales are improving across many counties in the state."
Here is a partial list of the most popular towns in Massachusetts Real Estate for the second quarter this year:
Rank Town/City
1 Norfolk
2 Upton
3 Rehoboth
4 Kingston
5 Westport
6 New Bedford
7 Fairhaven
8 Pepperell
9 Boxford
10 West Newbury
To view the full list of hottest towns in Massachusetts along with more information on each town, visit the New England Real Estate Blog.
Source: Warren Report: Largest Increases in Residential Number of Sales:
mlrealtyne.com/wp-content/uploads/2013/08/warren-report-largest-increases-residential-sales-q2.pdf
About McGeough Lamacchia
John McGeough and Anthony Lamacchia are the number one Real Estate Agents in Massachusetts and named one of the Top 100 Real Estate Teams by the Wall Street Journal in 2010. They are a full service real estate agency serving home buyers and sellers Massachusetts and New Hampshire.
MLRealtyNE.com