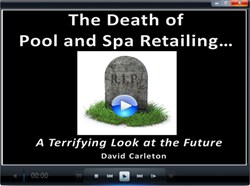 The statistics in this shocking yet powerful video paint a bleak future for hot tub, pool and sauna dealers who don't quickly adapt to the changing industry environment. - David Carleton
San Diego, CA (PRWEB) October 29, 2013
"According to a recent survey by SpaRetailer magazine, the US Spa industry sells approximately 200,000 units annually. This is down from an industry high of about 450,000 units just a few years ago," said David Carleton, president of Spa Pool Marketing Success. The statistics, facts and figures in this shocking yet powerful video paint a bleak future for hot tub, pool and sauna dealers who don't quickly adapt to the changing industry environment.
As Carleton explains in the video, "those dealers whose business has grown over the last few years, probably did so because they were able to steal market share, not grow the market. And That's OK for now, but it is just not sustainable."
According to Carleton, "the Internet combined with the economic downturn has fundamentally changed the way consumers shop for these products. Additional SpaRetailer magazine survey information revealed that 92% of spa buyers research the brand online before visiting a store. This means that dealers that sell pools, spas and saunas need to have a dominant online presence in order to set themselves apart from the competition. But these days, just having a website is no longer good enough. Dealers really need to have an aggressive Internet marketing plan in place," said Jason Carleton, the company's marketing manager.
"The Death of Pool and Spa Retailing video was created to point out critical industry trends and shock dealers into taking action that will help ensure the future success of their business. Our advice to pool and spa dealers is to take a look at their current Internet marketing strategy. If it isn't generating the quality and quantity of leads they need, then they should stop doing it and try something new," said Jason.
Spa dealers, sauna retailers and swimming pool builders wanting to learn more are encouraged to watch this "critically acclaimed" video. The video can be seen on the company website http://spapoolmarketingsuccess.com/shocking-video/.
About David Carleton and Local Business Marketing Success
David Carleton is a Local Business and Internet Marketing Consultant who specializes in showing spa dealers and pool builders how to spend less and get more from their marketing and advertising using low cost strategies in local business marketing, lead generation and conversion, Internet marketing and social media
Dave was Vice President of Dimension One Spas for 6 years where he developed sales; marketing and training programs that helped hundreds of dealers in 30 countries around the world generate leads, increase sales and enhance their overall marketing effectiveness.
Dave has been a keynote speaker for many industry, Chamber and trade groups across the United States and has written several books including The Ultimate Lead Generation System and The Essential Referral Marketing System. In addition, he is a frequent guest on San Diego's KUSI and CW6 morning news providing unique strategies to small business owners on Social Media, Internet Marketing and Lead Generation.
Spa dealers, sauna retailers and pool builders wanting to contact the company can call David Carleton at 858-442-3131.