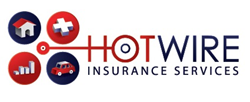 "The goal of our new website is to make choosing insurance easier than ever, while keeping the personal touch of customer service." - Sumy Bilal, Owner, Hotwire Insurance Services
San Diego, CA (PRWEB) August 08, 2014
Hotwire Insurance Services has designed a fresh, intuitive website to better support customers across California, including the San Diego area, the Los Angeles area, the San Francisco Bay area and the Sacramento area. You can now visit the website at http://www.hotwireins.com/. The website was developed to be easy to navigate and has various valuable capabilities in order to make insurance simple, quick and efficient.
Prospects can now request free auto, business, SR-22, health, life and property insurance quotes, from their computer or mobile device. They can also buy and sign their policies online, making the entire buying process both faster and more efficient. Furthermore, customers can make changes to a policy, file claims and peruse the informative content in our blog. The new site works to enhance Hotwire Insurance Services' reputation for supplying cost-effective business insurance and outstanding customer service.
"The goal of our new website is to make choosing insurance easier than ever, while keeping the personal touch of customer service," said Sumy Bilal, owner of Hotwire Insurance Services. "We want our clients to feel self-assured in their understanding of insurance subjects and their decisions when buying insurance. Our staff of premier agents is also there to deliver assistance whenever possible."
By visiting http://www.hotwireins.com/, customers can likely find the answers they seek about auto, business, SR-22, health, life and property insurance and other regularly asked questions without the need to pick up the phone. However, human interaction cannot be replaced and trained agents are still available to address your concerns.