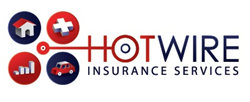 "Establishing relationships with these carriers will help ensure that our clients find the best coverage options for their needs." -Haitham Bilal, President, Hotwire Insurance Services
CHULA VISTA, CA (PRWEB) January 21, 2015
Hotwire Insurance Services announced today that they have added relationships with new carriers for clients looking to bundle their auto, home and life policies. These carriers include AAA, Allied (a Nationwide product), MetLife, Encompass, The Hartford, Kemper Preferred, Safeco (a Liberty Mutual product), Liberty Mutual and Travelers.
Hotwire Insurance Services clients looking to bundle home, auto or life insurance policies under a single carrier now have more options to choose from; these new agreements also help ensure that clients find the best coverage for their needs at an affordable price.
"The addition of these new carriers helps us better serve our clients," said Haitham Bilal, President of Hotwire Insurance Services. "Bundling policies is convenient and cost-effective for our clients, and establishing relationships with these carriers will help ensure that our clients find the best coverage options for their needs."
As a member of Insurance Associates of America — a National Agency Alliance — Hotwire Insurance Services will continue its dedication towards providing clients with the coverage and service they desire, at a price they can afford.
About Hotwire Insurance Services
Hotwire Insurance Services is a full-service independent insurance agency, assisting customers in California, Texas, Arizona and North Carolina. Hotwire Insurance Services gauges the needs of clients and scours for insurance plans on their behalf in order to deliver excellent coverage and customer service. For more information, visit our website at http://www.hotwireins.com/.