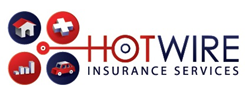 'We openly and actively encourage through blog comments social sharing icons in order to inspire constructive discussions.' - Haitham Bilal
CHULA VISTA, CA (PRWEB) July 24, 2015
Hotwire Insurance Services is expanding their network of clients through the use of social media, which makes it quicker to offer up-to-date information on insurance subjects. Social networking also fosters back-and-forth communication, customer feedback and productive public discussions.
Customers can now network with Hotwire Insurance Services on Facebook, Twitter, Instagram, Google+, YouTube, LinkedIn and an interactive blog featuring insurance topics and safety tidbits. Social media sites provide a central location for information about business insurance, along with a speedy and simple way to get in touch with an agent after hours or while on the go. Paired with a fully-functional mobile site, Hotwire Insurance Services' new social media pages allow agents to be in communication with customers around the clock.
"Our staff is dedicated to posting useful insurance information, frequently asked questions and safety tips you can utilize to avoid instances that could lead to a claim," said Haitham Bilal, President of Hotwire Insurance Services. "Our blog covers subjects that can improve the daily lives of our customers as far as insurance is concerned. We openly and actively encourage through blog comments social sharing icons in order to inspire constructive discussions."
View our site at http://www.hotwireins.com to connect with Hotwire Insurance Services for more extensive information about business, auto and SR-22 insurance. Agents are also available by phone at (858) 277-2719.
All About Hotwire Insurance Services
Hotwire Insurance Services is an independent insurance agency serving consumers throughout California. Hotwire Insurance Services weighs the needs of customers and shops for policies on their behalf in order to provide outstanding coverage and customer service. To get in touch, visit our site at http://www.hotwireins.com.