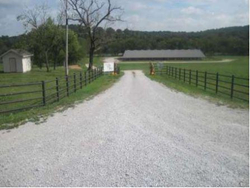 Siloam Springs, AR (PRWEB) March 17, 2015
An enormous 132.1-acre property designed for horse lovers will be a cornerstone of Micoley.com's upcoming major Q2, 2015 auction on the 30th of May. Located in the wonderful state of Arkansas at 14144 Springtown Road in Siloam Springs (zip: 72761), this gigantic property is roughly half pasture, half forest. With a 49,545-square foot arena with a tack room and observation deck, 8 interior stalls, and a wash area for horses, this property has everything required for raising horses and letting them stretch out their legs. Also located on the grounds is a 1,034-square foot 2-bedroom, 2-bath residence.
Constructed in 2007, the structure features steel frame trusses and siding and a roof made of metal. The large riding arena is enclosed with metal fencing, and is heated by hanging heaters and cooled by large ceiling fans. The facility is in good condition and utilities include access to public electricity, city water, telephone, and garbage collection. This truly is a unique property; it's listed at $1,425,000 with an opening bid of $995,000 if no offer is received by the February 28 auction.
Siloam Springs is located in northwest Arkansas on the Arkansas/Oklahoma border. It was selected as one of the 20 best small towns in America in 2012 by Smithsonian magazine due to its high quality of life. John Brown University is located in town, and the University of Arkansas is located just 45 minutes away in Fayetteville. McKee Foods, Simmons Foods, and Sager Creek Vegetable Company are the city's largest employers, each with more than 1,000 employees.
The highly motivated sellers of this property have indicated that they plan to entertain early bids and offers. Buyers are most likely already researching this property, and coming to decisions about whether to make a purchase, so potential buyers are advised to act fast.
Interested parties should visit micoley.com to find more photos and details about the property, or visit in person and perform an inspection on site, which is highly recommended. (866) 371-3619 is Micoley.com's information line. Additionally, Micoley.com features a live chat service through which questions can be answered. Auctioneer: Wade Micoley #2353. Broker: Wade Micoley #PB00074362.
About Micoley.com:
Green Bay, Wisconsin-based Micoley.com is a real estate marketing firm specializing in project focused auctions of bank-owned properties throughout the United States. The Micoley.com approach to real estate marketing tailors each auction plan to the client's individual needs. The site is constantly being updated for the benefit of buyers, as large-scale auction events are held monthly, and new properties are added daily.