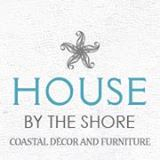 We love sand between our toes and ocean breezes.
Rowlett, TX (PRWEB) March 09, 2015
Owning a beach house is the dream of many and often furnishing and decorating it is troublesome. Finding the time or the availability of upscale coastal décor has proven to be an issue. This is one of the reasons Mimi Koehler, owner of House By The Shore decided to take on this new venture. Koehler has an eye for good design. This former photo journalist, graphic artist and art director utilizes her experience and creativity to cull a collection of coastal décor and furnishings that will thrill even the most discriminating taste. House By The Shore officially launched February 23, 2015.
"I love the sea, the beach lifestyle and good design. I'm taking the opportunity to combine all the things I love and sharing them with others" states Koehler. Koehler is able to showcase great coastal décor and nautical inspired furniture in her online boutique. "Because I decided to create an ecommerce store, I'm able to present more offerings to our clientele and they have the convenience of being able to shop wherever they are and whenever they please. The products will be delivered directly to them making it really easy to shop for a home at the shore when you live somewhere else" adds Koehler.
Ms. Koehler is selective when choosing vendors and only those which offer high quality and great design will be considered. The store is dedicated to finding and providing customers all the things they want for a seaside living lifestyle whether they actually live at the beach or just want a home that feels like it.
To view the website and the beautiful collections of coastal décor and furniture, please visit http://housebytheshore.com/.
About House By The Shore
Founded by Mimi Koehler in the fall of 2014, House By The Shore offers the best in coastal décor and furniture. The collections include Traditional, Modern, Asian, French Country and Shabby Chic designs with a coastal focus to enhance any home by the shore. Visit House By The Shore's blog at http://www.housebytheshore.blogspot.com/.
Contact:
Mimi Koehler
888.828.8103
Email: mimi(at)housebytheshore(dot)com
Follow House By The Shore on social media:
Facebook: https://www.facebook.com/HouseByTheShore
Twitter: https://twitter.com/HousebytheShore
Pinterest: https://www.pinterest.com/HousebytheShore/