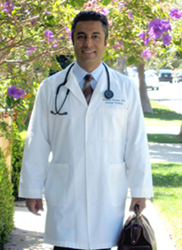 Throughout his career at House Call Doctor Los Angeles, Dr. Farzam explains that he has proven house call medicine to be an effective and highly preferred method of providing health care to patients
Los Angeles, CA (PRWEB) February 19, 2016
According to an article published February 11th on Reuters, new research shows that, when it comes to emergency and intensive health care, elderly patients over the age of 80 are rarely given a voice in their treatment options. According to the study's lead author, fewer doctors are asking older patients for their opinions and permission for treatment, despite the legal requirement that no medical decision should be made without a patient's consent. According to Dr. Michael Farzam, the founder of House Call Doctor Los Angeles, elderly patients not only deserve full autonomy when it comes to making medical decisions with their doctors, but they also require an even greater level of personal attention and care than other patients. Dr. Farzam, who has been practicing house call medicine in Los Angeles for over a decade, explains that, because house call medicine treats patients on an individual and personalized basis, patients of all ages have a say in their medical care every step of the way. Additionally, he notes, many of the benefits of house call medicine support the specialized needs of older patients. According to Dr. Farzam, some of these benefits include:

Individualized Attention – Dr. Farzam explains that being personally visited by a doctor in the home is a comforting and convenient experience that can be beneficial for both physician and patient alike. Additionally, being in the patient's home offers the doctor a great deal of information he or she might otherwise be without in the hospital or clinical setting. The ability to scan the patient's home can provide insight into potential environmental risks, such as mold, which may factor into patient care. The more information about the patient available to the doctor, the more likely he or she can accurately treat the patient's ailment.
Staying Home – Sometimes, Dr. Farzam notes, the very act of getting up and into the car is very time-consuming and uncomfortable for patients, particularly those with mobility issues. For such patients, house call medicine offers a great deal of freedom and flexibility, not to mention the ability to avoid long lines at clinics and hospitals. What's more, for people of all ages visiting the Los Angeles area who don't have time to find a doctor and make an appointment, house call doctors are able to visit travelling patients in their hotel rooms.
Throughout his career at House Call Doctor Los Angeles, Dr. Farzam explains that he has proven house call medicine to be an effective and highly preferred method of providing health care to patients, and he looks forward to witnessing the continued resurgence of the tradition. For more information about House Call Doctor Los Angeles, or to book an appointment today, call 24/7 at 310-849-7991 or visit the practice online at http://www.HouseCallDoctorLA.com.