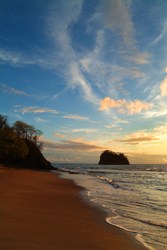 National Geographic called Pirates Beach "a stunning little beauty of a beach nestled in a sculpted bay....a gem." We call it ours.
Tamarindo, Costa Rica (PRWEB) July 13, 2013
House Hunters International will feature Punta Playa Vistas on a Costa Rican based episode scheduled to air July 15, 2013 at 10:30 pm (EST). The episode follows Sarah, a single female American, and new puppy owner, who is looking to make the move to find her dream home in Costa Rica. Sarah's requirements for her new home are a location near the beach, ocean views and luxury finishings. The show follows Sarah, accompanied by her friend Steve, as they view three properties: a villa in Playa Grande, an ocean view condo in Punta Playa Vistas and a home near Playa Tamarindo. Along the way, Sarah and Steve kayak in Pirates Bay, snorkel at Playa Conchal and Stand Up Paddle board at Playa Minas. At the end of the show, we learn which property Sarah will buy.
Punta Playa Vistas is an eco-conscious residential community located on Costa Rica's Pacific Coast overlooking Bahía de los Piratas (Bay of the Pirates). The development is situated on the Gold Coast of Costa Rica, whose center is defined by the Playa Flamingo real estate market to the north and the Playa Tamarindo real estate market to the south. Punta Playa Vistas is located between these two epicenters of luxury real estate development. Punta Playa Vistas offers both ocean view condominiums and luxury home sites at a surprisingly affordable price. For more information and full contact details visit Punta Playa Vistas' website by clicking here.
House Hunters International is a spinoff of the wildly popular HGTV show House Hunters. On House Hunters International guest home shoppers travel the globe in search of the perfect foreign property. The house hunters and their real estate agents check out all sorts of architectural styles and work through the idiosyncrasies of buying real estate in a different country. In any language, home buying is an emotional experience. House Hunters International captures all the drama and condenses it into single destination episodes.
HGTV (also referred to as Home & Garden Television), is a cable television channel operating in the United States and Canada broadcasting a variety of how-to shows with a focus on home-and-garden improvement, maintenance, renovation, craft and remodeling. It also operates the HGTV.com website. Like its sister channels (the Cooking Channel, the DIY Channel, the Food Network, Great American Country and the Travel Channel), the channel belongs to Scripps Network Interactive, headquartered in Knoxville, Tennessee.
Tamarindo is a popular beach town located along the Pacific Ocean in the Gold Coast of Costa Rica. Real estate in Tamarindo is haven for expats as there are beautiful beaches, a vibrant nightlife and close to major amenities.
Contact:
Christian Desmond
info(at)puntaplayavistas(dot)com
(732) 962-6525
http://www.puntaplayavistas.com