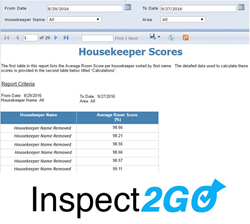 Better information leads to improved guest satisfaction
Orange County, California (PRWEB) October 04, 2016
Inspect2GO now offers hotel housekeeping inspection solutions tailored to the unique needs of the hospitality industry. The housekeeping inspection tool includes a mobile inspection application, cloud database and inspection management program. The system is offered as a monthly subscription service.
Hotel managers and housekeeping supervisors face multiple challenges. Housekeeping inspections are time consuming. Once conducted, it is difficult to understand the inspection data in a meaningful way. Managers need comprehensive reporting to see the big picture and make use of the information. Well informed management leads to happier employees and improved guest satisfaction scores.
The new Inspect2GO system is designed to solve these problems. Inspections are conducted electronically, with results going directly to the database. The inspection scoring system rates performance. A scheduler is used to assign, manage and track inspections and tasks. Work orders are sent to the maintenance or engineering department. Key performance indicators are presented with the reporting tool.
Hotel Housekeeping Inspection Software – Description and Modules

Inspection - Housekeeping inspection application
Total Solution – Complete program and turnkey system
Database – Housekeeping data and key performance indicators (KPIs) for housekeepers
Scheduler – Task management to schedule and track inspections by room and housekeeper
QA –Quality assurance inspection audits
Checklists – Housekeeping inspection checklists based on customer's unique forms and process
Dashboard – Custom, web-based dashboard configured to meet customer needs
Web - Online, web-based portal
SAAS – Cloud-based, Software-as-a-Service package with monthly subscription fee
Tracking – Housekeeper scoring, rating system and performance tracking
Work Orders – Work order generation, tracking and resolution tool for maintenance and engineering
Reporting

Average housekeeper scores
Hotel comparison and averages (for enterprise version across multiple hotels)
Number of audits or inspections conducted
Most common deficiencies
Filter KPIs in the system by date, property, staff, etc.
About Inspect2GO
Inspect2GO (http://www.inspect2go.com/hotels/housekeeping-software) offers state-of-the-art inspection management software that combines mobile, cloud and database technology. Inspect offline and manage online with software designed by inspectors, for inspectors. Inspections are conducted on a native mobile app that's easy to use and functions everywhere, offline, without the need for data connectivity. iPad, Android tablet and Windows (Surface Pro) mobile applications are available. The database software enables scheduling, ad-hoc reporting, financials, permitting and management functions.