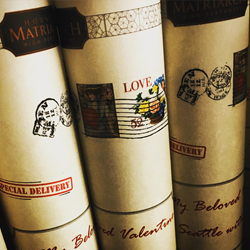 Scent O Grams are 'Liquid Love Notes' for your Valentine... the perfect Valentine, RAOK or secret admirer gift.
Seattle, Washington (PRWEB) January 19, 2017
Award-winning indie perfumery House of Matriarch (http://matriarch.biz) is pleased to debut its Scent O Grams "Liquid Love Notes" for Your Valentine in time for Valentine's Day 2017.
Scent O Grams are vintage-style valentine tubes, containing a half-ounce of one of House of Matriarch's top twelve artisan fragrances. The tubes are meant to be shipped to a loved one, arriving as a surprise that catches the beloved unawares and fills their day with joy.
"Scent O Grams are the perfect Valentine's Day surprise," says Christi Meshell, creative director and fragrance composer at House of Matriarch. "They say, 'I Love You' in an unforgettable way that goes beyond the obligatory bouquet of flowers or box of chocolates. Scent O Grams are unisex, calorie free and will be remembered and treasured for years to come. They're also a terrific RAOK or secret admirer gift."
House of Matriarch has made an art of designing alluring, handcrafted fragrances. In the process they have built a loyal celebrity client following and amassed numerous awards and press mentions. They love playing Cupid for the gifter who isn't quite sure about his or her choice, and are happy to share gift ideas to suit every Valentine.
For him, there's Black No. 1 (James Marsden is a fan) and Devotion. To win her heart, consider Albatross (Madonna and Halle Berry are devotees) or Coco Blanc, a luscious, creamy unisex vanilla and sandalwood blend that has been worn by Rooney Mara and Dascha Polanco. Teens will fall for Sacre Tabac Sucre, Black No. 1 and Orca. Moms adore Madrona, while Dads love Devotion and Alpha.
Epicureans will crave Bittersweet Symphony and Forbidden. Brides-to-be swoon over Kazimi and Trillium (worn by Amanda Seyfried). Musicians will be inspired by Sex Magic, Orca and Devotion; worn by fka Twigs, Ashlee Simpson and Carrie Underwood, respectively. Athlete Fitnessence is the signature scent of athletes and fitness buffs around the world.
Scent O Grams (retail $88.00) can be sent anywhere House of Matriarch ships and will be timed for February 14 delivery.
All House of Matriarch perfumes are at least 80 percent organic, and are handmade in the U.S.A. Naturalness, authenticity, truth in advertising and the subtle therapeutic effects of the essences ("It's like luxury plant medicine!") are House of Matriarch's promise to its customers. All products are certified cruelty-free.
Men's Journal honored Blackbird by Matriarch as one of its "10 Best New Scents for Men." Sunset Magazine included Matriarch perfumes in their Best of the West, calling them "genius in a bottle."
House of Matriarch perfumes have been gifted at GBK Luxury Celebrity Gift Lounges for the MTV Movie Awards, the Golden Globes and the Emmys. Celebrity gift recipients include Angela Bassett ("Olympus Has Fallen"), Jamie Grey Hyder ("Graceland"), Hana Mae Lee ("Pitch Perfect") and Jason Ritter ("Girls," "Parenthood"), among many others. Visit House of Matriarch's press page for a complete list of awards and media mentions.
House of Matriarch is carried by select Nordstrom stores, as well as a small number of boutiques in the Seattle area. Its fragrances are also available online at http://matriarch.biz.
To learn more about House of Matriarch, contact Christi Meshell by email using the Contact button on the upper right. Become a fan on Facebook, Pinterest and Instagram (@HouseofMatriarch), and follow the House of Matriarch on Twitter (@HouseofMatriarc).
ABOUT HOUSE OF MATRIARCH
House of Matriarch (http://www.matriarch.biz) believes in the transcendent power of fragrance to connect us to the past, captivate our being to excite the present moment and help us to write the future. Founder, Scent Strategist and Perfume Mage, Christi Meshell, is "the Nose" behind some of the most compelling and award-winning fragrances hitting the niche fragrance scene.