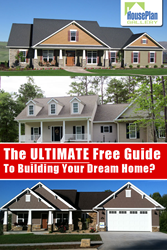 We wanted to create the ULTIMATE "how to build my dream home guide" to make it simple, quick & easy for families to get all the most important information... all in one convenient place, noted Mark Mathis, President of House Plan Gallery, Inc.
Hattiesburg, MS (PRWEB) June 03, 2015
For many families in the United States, building a "dream home", which is specifically designed for their family's specific needs and desires, is one of their biggest goals.
However, the reality is that many people never start the process because they simply don't understand how the actual home building process works...from start-to-finish.
From locating a suitable piece of land, to finding that "perfect" house plan with photos , to searching out a builder in your local area, to determining how much that home will actually cost to build, to acquiring financing, the process can seem overwhelming and many families just don't know where to start.
In an effort to help families understand how the entire home design/construction process works, Award-winning & nationally-recognized home designer House Plan Gallery, has just released their brand-new "Dream Home Success Kit".
"We are fortunate to be in a position where we've helped over 15,000 + families to design their new dream home", notes Mark Mathis, President of House Plan Gallery. "As a result, we wanted to create the ultimate "how to build my dream home guide" to make it simple, quick & easy for families to get all the most important information... all in one convenient place."
The House Plan Gallery "Dream Home Success Kit" includes an online video training workshop, that walks you through the entire process of how the house plans process actually works, from start to finish.
In addition, the free kit includes access to additional special reports, "cost-to-build your new home" estimator software, frequently asked questions videos from experts, open floor house plans coupons/discounts, free plan modification quotes, and much more.
Mr. Mathis also noted that there has been an "overwhelming" amount of downloads of the Dream Home Success Kit, since their new video for the house plans with photos was released on Youtube last month.
House Plan Gallery offers a few additional helpful house plan buying tips:

Always make sure that your house plans are designed and purchased from a Certified Professional Building Designer (CPBD) who is a member of the American Institute of Building Design.
Designers who have met the strict educational requirements, have suitable work experience and training in the field, and have passed the CPBD examination are highly-skilled professionals that specialize in the design and development of residential home plans. Don't settle for less in choosing your new house plans.
For those people who can find a stock house plan that fits "most" of their needs but not all, its typically quicker, better, and more cost-effective to have the actual designer of the house plans make these modifications, where possible.
When purchasing your dream home's house plans, be sure to check out reviews and testimonials of that home designer's previous clients. Reputable and well-respected designers, like House Plan Gallery, will have hundreds of testimonials on their website which you can review, to help you get a better sense of the professionalism of the work of that designer.
Families looking to build their dream home in the next 12 months are encouraged to Like House Plan Gallery on Facebook to join the growing community that receive the latest dream home building tips and news.
To learn more about the House Plan Gallery Free "Dream Home Success Kit" and to receive house plan coupons, please visit http://www.houseplangallery.com/builddreamhome