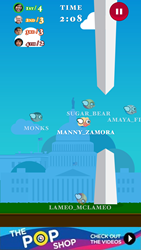 "There is something so satisfying, watching Trump slam into the Washington Monument". Kassie, House Race App Beta Tester
Venice, CA (PRWEB) May 23, 2016
Want to watch Trump slam into the Washington Monument? Or perhaps Clinton, Sanders or Cruz? Want to turn flappy gaming skills into fundraising dollars for a favorite candidate? What does the House Race app really do for gamers? For the first time, players of the iOS House Race mobile application can earn money for their favorite presidential candidates while showcasing their best flapping skills.
For the House Race team, game play with a cause has been a major focus. Manny Zamora, Co-Creator of the House Race app, has been following the 2016 presidential campaign on local news tv, with an eye for fun and support that supersedes the traditional fundraising channels. Enter the House Race app. Race against players in a no holds bars, winner take all campaign that gives the spoils to the victor. Each monument passed, equals a penny earned towards the candidates campaign that was selected. The House Race team will payout the collective earnings periodically, leading up to election day, scheduled for Tuesday, November 8, 2016 according to CNN Politics.
Some fun highlights of the game include, full game polling, so you can view how your candidate is doing overall as well as simple social media linking using Facebook, Twitter and Google+.
House Race Mobile Game Application
The House Race mobile game is the latest concept launched by creators, Brandon Manning and Manny Zamora.