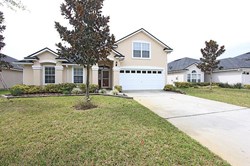 Some people are afraid to apply for a rental in fear of being denied for credit reasons
Arlington, Florida (PRWEB) August 01, 2013
Rental properties are one way that men and women unable to purchase a home can use to find housing in specific parts of the country. The JWB Rental Homes company is now listing its newest houses for rent in Arlington to in and out of state renters searching for properties.
This company frequently purchases and develops its real estate properties to achieve a portfolio of managed homes at or below market rates in the Jacksonville area.
Changes have been made to the rental agreements that are currently in use by this company. Instead of relying upon credit checks to verify rental qualifications, a simple background check is now the only housing requirement that a person has to complete to successfully rent the listed properties.
"Some people are afraid to apply for a rental in fear of being denied for credit reasons," said a housing specialist from the JWBRentalHomes.com company. The removal of the credit check requirement that was standard in the industry is creating new housing opportunities for men and women with good and below average credit.
The Arlington, Florida area continues to be one of the popular neighborhoods in the Northern part of the state. The housing that is in these neighborhoods can be higher rent than some other cities in the state. The housing specialists who currently acquire the company-owned properties in this area help keep the monthly lease payments as low as possible.
"We now feature an easy to use form that when used online removes the application fees," the specialist confirmed.
This elimination of application fees is one additional example of the ways that the JWB Rental Homes company is continuing its effort to provide affordable housing to all men and women who apply to this company for short or long-term housing needs.
About JWBRentalHomes.com
The JWBRentalHomes.com company is one of the fastest growing real estate companies currently in Jacksonville, Florida. This company has been awarded several local and national awards for excellence in the housing community. This company is part of the JWB companies that own and control hundreds of local properties in multiple Florida counties. The JWBRentalHomes.com website has been recently updated with better photographs, pricing information for each property and fast-track forms that are routed to housing experts online. This company has earned its impeccable housing reputation in the state Florida.